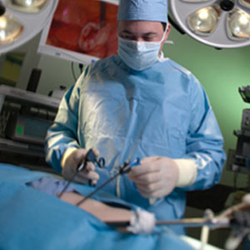 If you or a loved were diagnosed with uterine cancer following power morcellation, please contact Southern Med Law today to learn more about your legal rights. For a free lawsuit review visit www.southernmedlaw.com, or call 205-547-5525.
Birmingham, AL (PRWEB) March 31, 2015
Dr. François Blaudeau, the founder of Southern Med Law, is serving as Lead Counsel in a power morcellator lawsuit filed on behalf of a Pennsylvania woman who died as a result of metastatic leiomyosarcoma, a rare and aggressive form of uterine cancer, in February 2013. The complaint, which was filed by her husband and is currently pending in the U.S. District Court, Eastern District of Pennsylvania, alleges that the power morcellator used during her March 2012 hysterectomy was responsible for spreading the undiagnosed malignancy. The Morcellator lawsuit names LiNA Medical US d/b/a LiNA Medical, Blue Endo and Ethicon Inc. as defendants. The original power morcellator cancer lawsuit was originally filed the women was still living. The complaint has recently been amended and refiled to reflect the women's passing.(No. 5:14-cv-1557)
As both an attorney and practicing obstetrician/ gynecologist with a specialization in advanced gynecological surgery, Dr. Blaudeau possesses a unique understanding of the issues at the center of this complaint.
According to the complaint, the Decedent underwent a minimally invasive hysterectomy in March 2012, just nine days before she was diagnosed with leiomyosarcoma. Her husband charges that the device, which shreds uterine tissue into small pieces so that it may be removed via a small incision in the abdomen, "seeded" undetected cancer cells into her peritoneal cavity. The lawsuit further alleges that the manufacturers of power morcellators knew of this risk, but concealed the danger from U.S. health regulators and the medical community.
Court documents indicate the potential for the spread of cancer through power morcellation, and that In April 2014, the U.S. Food & Drug Administration (FDA) expressly discouraged surgeons from using power morcellators to perform hysterectomies or myomectomies because of their potential to spread undetected cancer cells beyond the uterus. The FDA's warning pointed out that uterine cancer is difficult to detect prior to surgery, and that spread of such a malignancy via a power morcellator greatly reduces a woman's chances for long-term survival. And In November 2014, the FDA again warned against the use of power morcellators, stating that the devices should be avoided in the vast majority of women who require hysterectomy or myomectomy. According to the agency, this patient population includes women who are in menopause, about to enter menopause, or those who are good candidates for minimally invasive procedures that don't require their use.
Dr. Blaudeau and the staff at Southern Med Law continue to offer free legal evaluations to those whose cancer was allegedly spread via uterine morcellation. If you or a woman you loved were diagnosed with uterine cancer following such a procedure, please contact Southern Med Law today to learn more about your legal rights. You can arrange for a free, no obligation power morcellator lawsuit review by visiting http://www.southernmedlaw.com, or by calling the office directly at 205-547-5525.
About Southern Med Law
Southern Med Law is a patient and consumer advocacy law office providing legal representation to the victims of negligent personal injuries, medical malpractice, dangerous drugs, faulty medical devices and defective products. Led by Dr. François Blaudeau, an attorney and a practicing obstetrician/ gynecologist, the legal staff at Southern Med Law possesses a deep understanding of the complex medical and legal questions at issue in all manner of product liability and personal injury claims. They're not afraid to take on the nation's largest corporations in their pursuit of justice, and are committed to ensuring that all victims have access to the type of aggressive legal advocacy that assures success.
Southern Med Law
The Southern Institute for Medical and Legal Affairs
3530 Independence Drive
Birmingham, AL 35209
(205) 547 5525
(205) 547 5526
francois(at)southernmedlaw(dot)com
http://www.southernmedlaw.com