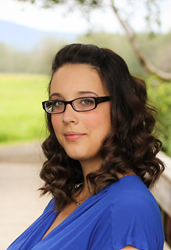 ORANGE BEACH, ALA. (PRWEB) March 27, 2015
Driven and determined, Alaska resident Amanda Novacek is ready to make a difference in her community and with the Columbia Southern University (CSU) Hero Behind the Hero Scholarship, she plans to do just that.
"While working towards my bachelor's degree, I held a student position with the Phoenix (Ariz.) Immigration Court. I loved the environment," said the mother of two and a recent winner of the scholarship. "I loved working with the judges and all the different cases that came through our office."
CSU's Hero Behind the Hero Scholarship honors the spouses and children of active-duty public safety personnel (firefighters, law enforcement officers, EMTs and dispatchers) and National Guard and military men and women.
Each award date, one scholarship will be awarded to the spouse or child of a National Guard or active military man or woman and one will be awarded to the spouse or child of a public safety personnel.
The CSU scholarship will cover up to $12,600 for one online degree program and will be applied directly to the recipient's tuition for up to three years or until the completion of the selected online degree program.
Novacek, the proud wife of Army Chief Warrant Officer Mark Novacek, plans to use the degree to pursue her passion for criminal justice via an online master's degree in public administration with a concentration in criminal justice.
Aside from working in the immigration court, Novacek said she was also inspired after working with Victim-Witness, which strives to reduce the trauma of a crime by empowering and assisting crime victims, witnesses and significant others.
"While volunteering there, I had a sense of fulfillment. I was helping my fellow citizens and I enjoyed the work. Both of those experiences allowed me to see the holes in our justice system and that has inspired me to try to make a difference," she explained.
To learn more about the Hero Behind the Hero Scholarship, please call 888-785-3006 or send an email to hero(at)columbiasouthern(dot)edu.
CSU offers online associate, bachelor's and master's degree programs in various fields including criminal justice, homeland security, fire administration, occupational safety and health, organizational leadership and business administration. To learn more about CSU, please visit http://www.ColumbiaSouthern.edu.