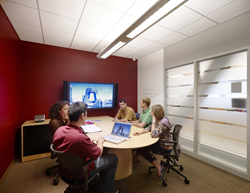 We're excited to expand our West Coast presence during our company's twenty year anniversary--Mark Valenti
Los Angeles, California (PRWEB) March 30, 2015
National independent technology consulting firm The Sextant Group has opened a Los Angeles office. This is the company's ninth office in the US.
"We are excited to expand our West Coast presence during our twenty year anniversary," said Mark S. Valenti CTS, President and CEO of The Sextant Group. "Although we've had a California office since 2010, this occasion positions us to better deliver local service to our Los Angeles-based clients and more effectively serve the entire West Coast region."
With clients ranging from UC San Diego to Stanford, The Sextant Group has been familiar with the local terrain for most of its 20 years in business.
Tim Waters CTS, local Principal-in-Charge of the new Los Angeles office says, "We're pleased to have a dedicated and experienced team here to provide our clients with exceptional service." Waters' clients range from Google and the City of Long Beach to UC Davis, the University of Calgary and UCLA.
The new office address is 11301 West Olympic Boulevard, Suite 348 Los Angeles CA 90064 and phone number 213.412.4870. For more information, contact Tim Waters at TWaters(at)TheSextantGroup(dot)com or visit TheSextantGroup.com
About The Sextant Group
The Sextant Group is the award-winning technology consulting firm specializing in the design and specification of architectural and environmental acoustics, audiovisual systems, IT, telecommunications, security, specialty lighting and medical communications. Since 1995, architects across the US and Canada — and their clients — continue to look to The Sextant Group for independent technology consulting and design for healthcare, higher education, corporate, library, performing arts, broadcast/studios and sports facilities. Experience spans over 1500 projects for more than 600 owners in 43 states and 11 countries. The Sextant Group is headquartered in Pittsburgh PA, with offices in Atlanta, Columbus, Los Angeles, New York, Omaha, Phoenix, Santa Barbara, and Washington DC. For more information, visit TheSextantGroup.com.
###