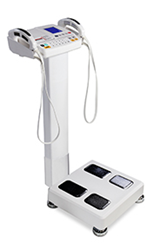 Rice Lake, Wis. (PRWEB) March 31, 2015
For bariatric health professionals who want better results for their patients and a faster return on their investment, Rice Lake Weighing Systems introduces its multi-frequency body composition analyzer at Obesity Medicine 2015, April 8-12 at the Colorado Convention Center in Denver, Colo. Ideal for busy weight loss centers and medical offices, Rice Lake's BCA uses the most advanced bio-electrical impedance analysis as a health assessment tool. Obesity Medicine 2015 delivers clinical and practical knowledge about a variety of topics related to the medical treatment of patients affected by obesity. Visit booth #36 to see Rice Lake's BCA in action and speak with product expert, Joe Giglio.
Rice Lake's BCA is available in three different models: D-1000-3 Full Body, D-1000-2 Upper, and D-1000-1 Lower. All models come with a built-in printer that immediately a detailed breakdown of the analysis. Get more in-depth results with Rice Lake's Body Pass™ software to maximize health data management.
Health professionals can use Rice Lake's BCA to provide their patients with the most effective programs and superior results. Goal Setter mode offers users an effective way to establish and track health goals and also calculates the patient's predicted weight and fat mass when the goal is reached.
More information regarding Rice Lake's body composition analyzer can be found by visiting http://www.ricelake.com/BCA.
Rice Lake Weighing Systems is an international leader in the manufacture and distribution of weight-related products and process-control equipment. Within this ISO 9001 registered company, progressive new technologies merge with the wisdom of industry experience and create the future of weighing through cutting-edge research and design.