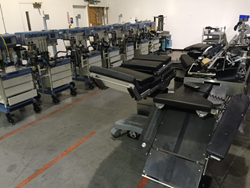 'We are a one-stop-shop,' said Erik Tivin, CEO of Centurion.
Chicago, IL (PRWEB) March 28, 2015
Centurion Service Group will be hosting a live on-site and online medical equipment auction on Thursday, April 2 at their Las Vegas warehouse, located at 4606 Andrews St. Suite 3, North Las Vegas, NV 89081. The sale, which consists of equipment from hospitals and surgery centers from around the United States, will begin promptly at 9 a.m. PDT.
Buyers will find items of all types including anesthesia, endoscopy, lab, radiology and surgery equipment. "We are a one-stop-shop," said Erik Tivin, CEO of Centurion.
Among the sale's highlights are 180+ B Braun Infusomat Space Infusion Pumps, Karl Storz Demo Equipment, a Topcon OMS-300 Operation Microscope, a Medical Positioning Inc 2251 Imaging Table, Datascope Balloon Pumps, Stryker SmartPump Dual Channel Tourniquet System, Skytron Elite 5001 OR Table and much more.
Those interested in participating on-site will also have the option to personally inspect the lots; inspection will be held on Wednesday, April 1 from 8 a.m. until 4 p.m. PDT.
For the auction catalog and to register, visit http://www.centurionservice.com.
About Centurion Service Group, LLC
Centurion Service Group is the world's largest medical equipment auction house. Every month over 7,000 lots of unique and diverse medical equipment are sold in their Chicago, Las Vegas and Fort Lauderdale auctions making them a one-stop shop for all medical equipment buyers. With a continuous turnover of medical equipment coming from hospitals, surgery centers and other healthcare facilities from around the United States, their inventory is constantly changing. All auctions are simulcast online so that buyers from around the world can participate, and for a more personal experience, buyers can inspect the equipment and participate in the auctions on-site. Centurion Service Group also has timed auctions to sell installed radiology and other high-valued medical equipment.