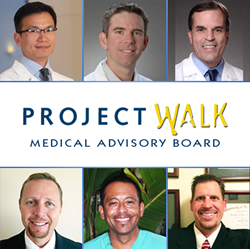 I could not be more proud to announce this board as it will successfully combine activity-based recovery with the very best in medical science.
Carlsbad, CA (PRWEB) March 30, 2015
Project Walk Paralysis Recovery Centers announce the formation of their Medical Advisory Board. The guidance and advisement from leading medical experts in the fields of neurology, rehabilitation, physical medicine, family medicine, sports medicine, pain management, psychology, and physical therapy will allow Project Walk to continue its advancements in paralysis recovery and overall patient care.
Project Walk is the pioneer and leader in activity-based paralysis recovery and has been treating people affected by paralysis and mobility-related disorders for nearly two decades. The medical advisory board is comprised of a multi-disciplinary group of medical professionals who are among the most respected in their fields and are dedicated to helping grow and continuously improve upon Project Walk's proprietary methods of recovery.
The formation of Project Walk's first Medical Advisory Board should bring greater awareness to the benefits and effectiveness of activity-based paralysis recovery to the medical community at large while helping to gain growing acceptance of Project Walk programs as a standard in the industry for paralysis recovery treatment. With more awareness and acceptance, more patients in need can benefit from Project Walk's proven and effective recovery methods. The board also provides strategic advice and counsel on method practices and future programs while supporting the Project Walk mission of providing an improved quality of life for those living with paralysis.
The board is headed by the highly regarded, Dr. Daniel Lu, Director of the Neuroplasticity and Repair Laboratory and Director of the UCLA Neuromotor Recovery and Rehabilitation Center. Dr. Lu is a member of the Comprehensive Spine Center in Santa Monica and his clinical expertise involves minimally invasive techniques in the surgical management of degenerative, traumatic, and neoplastic spinal disorders. At UCLA, his research efforts are focused on modulating the neuronal circuitry and networks in the treatment of central nervous system disorders with the ultimate goal of restoring lost function.
In addition to Dr. Lu, the board includes the following esteemed members: Mark Alan Harris MD, a physical medicine/rehabilitation specialist whom was one of San Diego Magazine's "Top Doctors" in 2014; Robert E. Sallis, MD, a family physician serving as Co-Director of Kaiser Permanente's Sports Medicine Fellowship program and a Past-President of the American College of Sports Medicine (ACSM); Joseph Castrejon M.D., an established private family practice physician; Gali Goldwaser , PhD, a licensed psychologist specializing in rehabilitation psychology and behavioral medicine focusing on chronic pain management; and Jay Huhn, D.P.T. a licensed physical therapist specializing in orthopedics with a subspecialty of manual physical therapy and strength and conditioning.
"I am thrilled to announce Project Walk's new Medical Advisory Board," reveals Tim Yates, CEO of Project Walk. "I have reviewed the credentials and interviewed each of our board members to ensure and can assure you that they represent the very best in their fields. On a personal level, they are great people who believe in Project Walk and in furthering the advancement of activity-based recovery. I could not be more proud to announce this board as it will successfully combine activity-based recovery with the very best in medical
science."
Through continuing research and advisement from the Medical Advisory Board, Project Walk will be in a position to further scientific support for the effectiveness of its methods, which will not only improve the level of care for its clientele, but provide maximum recovery results.
For more information on Project Walk, the Medical Advisory Board and current program options, please visit http://www.ProjectWalk.com.