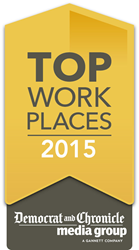 Our core values are not meaningless words on paper; they are our lifeblood, our organizational DNA.
Rochester, NY (PRWEB) March 27, 2015
Klein Steel is pleased to announce that it has been selected as one of the Democrat & Chronicle media group's Top Workplaces in 2015.
The Top Workplaces are determined based solely on employee feedback. The employee survey is conducted by WorkplaceDynamics, LLP, a leading research firm on organizational health and employee engagement that conducts regional Top Workplaces programs with 40 major publishing partners across the United States.
"At Klein Steel, our culture of wellness addresses the physical, emotional, and financial well-being needs of our team members. Company benefits are designed to provide a comprehensive plan to meet all of life's priorities. At a period of time during which many companies are cutting back on employee perks, we've provided more funds than ever toward increasing healthcare support to minimize the impact on team members and maintained our Employee Assistance Program, annual company picnic and holiday events. We have in-house wellness programs including pre-shift stretching and monetary incentives for non-smokers, and we formally recognize our team members for living our values and imperatives (VIP Awards) during our monthly company-wide meetings. We also offer extensive individual and leadership training through Klein Steel University (instructor-led ) and e-KSU (e-Learning). We couple this with a robust talent management and succession planning process to ensure the future success of our team members and the Company as a whole. We pride ourselves on our supportive leadership and working managers. To ensure we stay the course, we informally call these initiatives "the place you want to work," and "the leaders you've always wanted."
"Klein Steel is an organization that has defined and lived its ten core values," states Todd Zyra, President. "Our core values are not meaningless words on paper; they are our lifeblood, our organizational DNA. Everything we do is aimed at educating our team members on our values, screening applicants to ensure a values match, recognizing and rewarding team members for living the values, and weaving them into the fabric of our culture."
Adds Patrick DiLaura, Chief Talent Officer, "At Klein Steel, we firmly believe that our culture and people are our strategic strengths and the main reasons why customers want to do business with us. For us, team member satisfaction and retention are principle drivers of customer retention and satisfaction and critical measures of our success. We benchmark local manufacturing firms, set the bar higher, and then measure our progress. We hire team members who are a solid cultural fit and share our core values—including a strong social conscience."
The Rochester Democrat & Chronicle media group published the complete list of Top Workplaces on March 26, 2015. For more information about the Top Workplaces lists and WorkplaceDynamics, please visit http://www.topworkplaces.com and http://www.workplacedynamics.com.
Founded in 1971, Klein Steel Service Inc. is the region's premier steel service center with locations throughout New York. With over 3,200 line items of stock size carbon, stainless steel, and specialty metals, the company offers a full range of value-added processing, an integrated distribution network that extends the Klein Steel reach throughout the country and compliance to strict NQA-1 guidelines. Klein Steel is acknowledged as an innovator and industry leader having been named a finalist for the 2014 and 2015 Service Center of the Year award from American Metal Market, a 2012 recipient of the Rochester Business Ethics Award, and winner of the IndustryWeek Best Plants award in 2011.
Our Mission: Klein Steel strives to be the premier supplier of metals by providing solutions to meet our partners' needs. We attract and engage the best teammates, suppliers, and customers while embracing innovation and continuous process improvement.
For more information about Klein Steel Service Inc. visit http://www.kleinsteel.com.