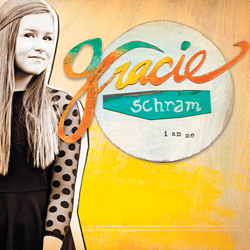 Nashville, TN (PRWEB) March 27, 2015
Following Gracie Schram's three performances at SXSW, she will release her debut studio album, I Am Me, on May 5, 2015. The album will be available for pre-order on April 14 including three instant grat tracks, "Wallflower", "We Are the Change", and "Yellow Shoes".
I Am Me was produced by the talented Charlie Peacock (The Civil Wars, Kris Allen, Switchfoot) and shows why Gracie has captured the hearts of so many.
"Gracie is a winsome young artist with the professionalism of a seasoned writer and performer," Peacock says. "The only thing greater than her talent is the humility with which she maximizes it."
Last week in Austin, Gracie performed at SXSW at the McDonald's Lounge, Midcoast Takeover, and Neiman Marcus' Make Some Noise. Make Some Noise is the Neiman Marcus brand platform that champions bold women with bold voices who are shaking up the status quo and leading the way forward. Gracie will be on tour this Spring throughout North America.
April 03 - Kansas City, MO - Hotel Phillips
April 06 - Los Angeles, CA - BMI Acoustic Lounge
April 11 - Kansas City, MO - Variety Show Kansas City 2015
April 13 - Leawood, KS - SevenDays Celebration
April 17 - Orlando, FL - Boys & Girls Club Keystone Conference
April 23 - Seattle, WA - WE Day
April 25 - Kansas City, MO - Middle of the Map Fest
April 30 - Nashville, TN - BMI CD Launch
Fans can pre-order the album April 14, 2015 and receive three of eleven tracks instantly. "This record is a collection of stories from my life and it has songs that are like reading pages out of my journal," Schram Says. "I hope that people will see themselves in these songs and find encouragement as they listen." To watch Gracie explain more about the album click here: http://bit.ly/1BuC0Fy
Tracklisting
1. Before I Fall
2. Wallflower*
3. Above the Clouds
4. What if I Like You Too
5. I am Me
6. Curious Heart
7. Breakup
8. Different
9. Heart Remaker
10. We are the Change*
11. Yellow Shoes*
*Instant Grat Tracks
About Gracie Schram:
Gracie Schram is a 16-year-old singer, songwriter & philanthropist whose rustic indie-pop sound is captivating listeners and changing the lives of children in poverty around the world. Her upcoming album, I Am Me, marks Gracie's first time working with a full-fledged producer, but is not her first album. At the age of 10, she recorded and self-released a six-song CD to benefit underprivileged children in Haiti and Africa. The impressively polished Showers from God went on to raise more that $30,000 for The Global Orphan Project, and the follow-up 7-song release, Different, also benefitted charity.
More on Gracie Schram:
http://gracieschram.com
Facebook: https://www.facebook.com/gracieschram
Twitter: https://twitter.com/gracieschram
Instagram: https://instagram.com/gracieschram/
Youtube: https://www.youtube.com/user/GracieSchram