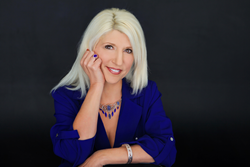 "Let's continue on the mission together for all of humankind." - S. Hunt
Los Angeles, CA (PRWEB) March 28, 2015
March should not be the only time to celebrate Women's History Month and International Women's Day, according to Shellie Hunt one of the nation's leading international speakers, global entrepreneurs, authors, TV producers and the Founder of The Women Of Global Change. Instead, let's celebrate and honor women all year-round for their hard work, perseverance, business acumen, and humanitarian work.
"We live in the greatest nation of all and we should set an example for equality all around the world," Hunt said. "There are women who don't have the chance to go to school, get an education, start a business, or even drive. It is time we stand authentically in our power and we seek balance in our lives knowing it is possible for us to have it all.
"We set new standards and we do so with more knowledge, kindness and understanding. As we move into the future, we are the women forerunners for a new way of living and stand as the guides as we go into the future," Hunt continued. "We can serve to set the new examples for women who can bring in more harmony to our home, life, love and the world."
Hunt has dedicated her life to inspiring personal potential, business success, corporate leadership, and advancing her own successful businesses including Success is by Design, Remake My Life LLC and The Women of Global Change.
Alongside the Women of Global Change, working in unison are other active women's leadership organizations such as AWM (Alliance of Women in Media), which promotes women in film and television. AWM engages such strong leaders as Suze Orman, Katie Couric, Robin Meade, and Geena Davis, to name a few. In addition, The National Women's Political Caucus, (NWPC), supports women in all genres of politics. There is also STEM, an organization for the development of mentoring young girls, as well as UN Women, an active participant in international human rights for women.
"Women are in a very unique forefront in the workplace and in the world. We are an active wave of progress and change, and not only for ourselves, but for our communities and generations to come," Hunt said. "Let's continue on the mission together for all of humankind."
Perhaps it's from her own humble beginnings that passion, determination and an eye for success have coalesced into a future where success is only the beginning. Having grown up in poverty, Hunt's personal business success reflects her mission and coaching paradigm: Success is by Design.
Shellie Hunt will embark on a number of key events this spring in an effort to continue to celebrate women around the world. She will be attending the Gracie Awards on May 19 in Beverly Hills, CA. She will be also be leading The Women of Global Change's International Adventure Summit in Jamaica from June 20 to 28.
About Shellie Hunt
Shellie Hunt's gift of transformational impact has taken her clients beyond motivation to lasting results through teaching the precise "How-to" in the designs of your success from the inside out. Her successes include: global entrepreneur, life coach, international motivational speaker, trauma expert, author of the "Success is by Design" series, and TV executive producer. Shellie Hunt is currently a proud member of the Alliance of Women and Media, which promotes positive progress and change for women, sat as a judge on the nationally televised Gracie Awards and is the newest board member for the National Women's Political Caucus.
More about Shellie Hunt can be found at http://www.successisbydesign.com/ or http://www.thewomenofglobalchange.com