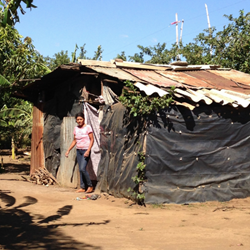 San Antonio, Texas (PRWEB) March 30, 2015
In a cooperative effort, King's Ransom Foundation, Dani Johnson and Food For The Poor have teamed up to lift more than 400 individuals in Nicaragua, the second-most poverty-stricken country in the Western Hemisphere, out of their unsafe and destitute conditions in the Santa Pancha village.
With a goal to build 1,000 safe homes including sanitation and potable water for these families, each house costs $5,200. In just two months, best-selling author and world-renowned public speaker, Dani Johnson, and longtime charity partner, King's Ransom Foundation, have raised over $550K to build the first 100 houses.
This milestone marks the first of many campaigns aimed at building homes for the entire town, along with a community center. The proposed construction will be paired with a plan to educate and provide the means for the citizens of Santa Pancha to become self-sustaining. With new tools and the knowledge on farming and sewing – each individual will have the means to provide a viable income for their family.
This week, the organizations kick off a push toward the second project milestone, with the aim to raise another $520K for the next 100 houses. Individuals interested in supporting the cause can visit the King's Ransom Foundation website for more information and to donate.
About Dani Johnson and King's Ransom Foundation: Dani Johnson grew up on welfare, pregnant at 17, homeless at 21 and millionaire by 23. Dani simplified her multimillion-dollar expert business, money and relationship secrets into easy-to-follow methods, helping tens of thousands worldwide achieve remarkable results. She has done 100s of TV, radio and print interviews such as "The Oprah Winfrey Show," "Good Morning America," "Forbes," "Wall Street Journal" and season premier star of ABC's "Secret Millionaire." As owner of 5 companies, wife, mother of five, grandmother of seven, author, international speaker, and syndicated TV and radio show host, Dani and her family have a deep passion for taking care of thousands of orphans, widows and the sick worldwide. She uses her public platform to globally mobilize others to support causes like the King's Ransom Foundation and its various charitable partners. King's Ransom Foundation is a non-profit 501(c)(3) charity currently supporting many individuals and ministries around the world to provide food, shelter, water, medical aid, education and life skills. The Foundation and its volunteer board members share common values for responsible stewardship, financial accountability, openness and disclosure.
###