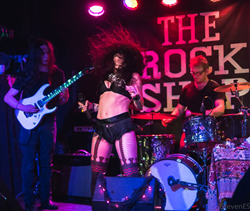 "[t]his incantation epitomizes Vajra's sound with smoldering arrangements, chanted refrains, and layered rhythms. The lyrics hint at the seduction and danger of the enigmatic: 'Pray for your existence / Keep your distance / Meet you inside that flame.'
New York, NY (PRWEB) March 30, 2015
Vajra's video for their single "Inside The Flame" was selected to play at Radio KSCR's Third Annual Music Video Festival. The festival takes place on Saturday April 4 at the Vista Theatre in Los Angeles, CA starting at Midnight. KSCR Radio is an independent station dedicated to indie music.
Vajra's music is hauntingly dark and hypnotic weaving Eastern Indian themes with melodic, progressive rock creating foreboding and mysterious lullabies. Creem Magazine states, Vajra marries the sound of eastern India with the abrasive, melodic infrastructure of progressive rock. Since playing their first show in 2011, Vajra has been captivating the NYC music scene with their eyebrow raising theatrical antics and uncanny sound. [Their] live show is like a cathartic punch in the face."
Their single "Blind (Blood Mix)" was in rotation at terrestrial commercial rock stations including: WOBG/Fairmont, WKKI/Celina, KZND/Anchorage, KEYJ/Abilene, WGBF/Evansville, KJML/Joplin, KGRR/Dubuque, WOBJ/Fairmont, KAZY/Cheyenne, KFML/Little Falls, KHAD/Upton, KHWL/Altus, KMZK/Grand Junction, KOZE/Lewiston, KQDI/Great Falls, KROW/Cody, KRWN/Farmington, KTED/Casper, KTRX/Ardamore, KXPZ/Las Cruces, WECL/Eau Claire, and WPNT/Villa Rica and it was added to SiriusXM's hard rock Octane Channel over the Summer.
"Blind (Blood Mix)" also charted at #37 on the Under the Radar Music Chart and was #1 for two consecutive weeks (10/6/14 &10/13/14) at Rockfile Radio Ice. Blind is also being played at a host of other internet radio stations including Radio 106, WPNY, Rock 939 and Hard N Heavy Radio.
The Big Takeover Magazine describes Vajra's music as, "sinister, sprawling, and stately featuring booming, tribal drums, ominous synths and lucent, spiraling guitars...[w]hat further sets them apart is the East Indian mysticism that pervades thanks to Pinna's hypnotic, Classical Hindustani-tinged singing."
Referring to Vajra's "Inside The Flame", Sonic Cathedral Magazine's Sara Letourneau writes, "[t]his incantation epitomizes Vajra's sound with smoldering arrangements, chanted refrains, and layered rhythms. The lyrics hint at the seduction and danger of the enigmatic: 'Pray for your existence / Keep your distance / Meet you inside that flame.' It's as though Pinna's inviting you to fully experience Pleroma while warning you of its enchantment."
The video for "Inside The Flame" was a concept conjured and executed by filmmaker Jordan Stone. Stone's work has been presented at the Independent Film Festival in Lima, Mono No Aware, Light Industry, Harvest Works, Brik Gallery, and has been included in several touring Micro Cinema's including Deep Leap and The Speculative Frontier. He also composed music for Messhof Games projects that were exhibited internationally and in the U.S. Jordan's work addresses alienation, drugs, death and transcendence. He works primarily with hand processed and hand painted 16mm film. His work is a perfect accompaniment to Vajra's dark lullabies.
Catch Vajra Live at Blackthorn 51 in NYC on Friday April 3 opening for Eve to Adam and I-Exist. For ticket information, go to Vajra's website: http://www.thevajratemple.com.