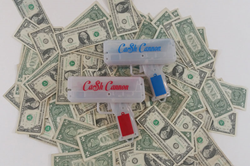 Make It Rain and Light up the Night with the Light Show!
Atlanta, GA (PRWEB) March 30, 2015
The makers of the Cash Cannon are proud to introduce their newest addition… the Light Show money gun. Many consumers are already familiar with how entertaining it is and how it can transform any event. Just like the original Cash Cannon, it can be loaded with 50 - 100 bills or bill-sized paper at a single time then press the trigger at your convenience. This time, the Cash Cannon creators have taken it up a notch with the Light Show. Squeeze the trigger... "Make It Rain and Light Up the Night."
TheCashCannon.com has received a great response to this novelty device since its debut, making them an instant hit at parties, celebrations and marketing events. Since sales for the lightweight cash-shooter has increased internationally and throughout the United States, the makers of the Cash Cannon predict that the Light Show will surpass the success of its predecessor. With a sleek design and newly patented light-up feature, the Light Show money gun is sure to bring added entertainment to any event.
The Cash Cannon Light Show creators are pioneers in the development of quality, innovative novelty items. The Light Show is projected to hit the market April 2015. Inventory is limited and will sell out quickly. Orders can be placed online at http://www.thecashcannon.com.
To learn more about the Light Show or other Cash Cannon products, or for additional information, please visit http://www.thecashcannon.com
Follow Us:
Hashtag: #cashcannon
Instagram: @the_cash_cannon
Facebook: facebook.com/thecashcannon