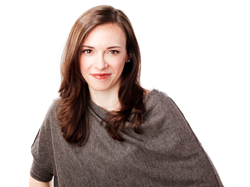 West Valley City, UT (PRWEB) March 27, 2015
Jessica Jackley, cofounder of the global micro-lending giant Kiva, will deliver Salt Lake Community College's commencement address May 7 at the Maverik Center in West Valley City.
Jackley is an "entrepreneur and investor focused on financial inclusion, the sharing economy, and social justice." She is currently an investor and advisor with Collaborative Fund, a company that invests in entrepreneurs whose businesses, if successful, show promise of making "the world a better or more interesting place."
Jackley also cofounded the pioneering crowd-funding platform ProFounder. In 2005 she helped found Kiva, which became one of the fastest growing social benefit websites in history. Kiva has facilitated more than $500 million in loans for individuals across 216 countries. Jackley earned an MBA from the Stanford Graduate School of Business and a bachelor's degree in Philosophy and Political Science from Bucknell University. She holds honorary doctorates from Centenary College and Quinnipiac University.
Salt Lake Community College is an accredited, student-focused, urban college meeting the diverse needs of the Salt Lake community. Home to more than 60,000 students each year, the College is Utah's leading provider of workforce development programs. SLCC is also the largest supplier of transfer students to Utah's four-year institutions and a perennial Top 10 college nationally for total associate degrees awarded. The College is the sole provider of applied technology courses in the Salt Lake area, with multiple locations, an eCampus, and nearly 1,000 continuing education sites located throughout the Salt Lake Valley. Personal attention from an excellent faculty is paramount at the College, which maintains an average class size of 20.