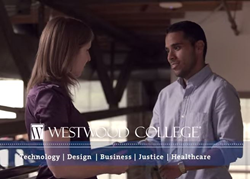 CHICAGO, Ill. (PRWEB) March 30, 2015
Westwood College has expanded its marketing partnership with PlattForm, a firm specializing in enrollment marketing, program management and career preparation for colleges and universities worldwide.
The expanded, full-service partnership represents an emphasis on integrated marketing and inquiry nurturing. "We had several different agencies working on different parts of our marketing efforts, and we really wanted one to be responsible for managing our entire marketing mix, analyzing impacts across media channels and making budget shifts as necessary," said Rick Yaconis, president and chief marketing officer for Westwood College. "PlattForm provides us those capabilities combined with education-specific expertise and knowledge about how the market is evolving."
Prior to this integrated marketing partnership, Westwood used PlattForm for branding, creative execution and traditional media placement. "This enhanced partnership allows us to further extend the brand work that we've done for Westwood into new media channels and use those channels together for a greater impact on prospective students and a larger degree of accountability to Westwood," said Stephen Rentschler, Westwood's managing director at PlattForm.
An integrated marketing mix aligns traditional and digital channels like TV, pay-per-click (PPC), social media, search engine optimization (SEO) and email nurturing for better performance and optimization opportunities than any one media channel provides in isolation.
For more information, please contact Sean Bryan, Product and Content Marketing Supervisor, at Sean(dot)Bryan(at)PlattForm(dot)com or 913.254.6752.
About Westwood College
Westwood College provides career-focused education for the health care, business, technology, design and justice fields at 14 campus locations nationwide. Westwood's academic programs are concentrated on associate and bachelor's degrees. Visit westwood.edu to learn more.
About PlattForm
PlattForm partners with higher education institutions worldwide to launch academic programs, grow enrollment, improve learning and enhance student outcomes through a proprietary technology suite that enables university leaders to make informed decisions based on real-time data. Since its beginning more than 25 years ago, PlattForm has been dedicated to changing lives through education. Visit PlattForm.com to learn more.