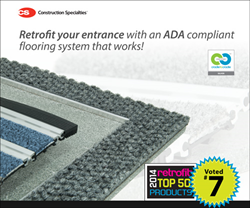 Muncy, PA (PRWEB) March 31, 2015
PediTred Low Profile (LP) was voted the seventh most popular product out of 740 products displayed in Retrofit magazine in 2014. PediTred LP is produced by Construction Specialties Inc. (C/S), a leading manufacturer of high-performing architectural specialty products.
Publisher of Retrofit magazine, John Riester, states, "The yearly Top Product winners are selected based on the number of inquiries about that product and through voting polls to our subscribers. For Construction Specialties' PediTred LP to be in the top 1% of that voting for 2014 is a prestigious honor to be proud of."
Retrofit magazine's goal is to provide the information, tools and insight to help building professionals - facility managers, building owners, contractors and others – renovate existing commercial, institutional and industrial structures into spaces that meet the needs of today's owners and tenants.
The properties that drew the attention of voters to the PediTred LP entrance flooring system are its ability to be retrofitted into existing carpet or tile and its ability to reduce slip/fall accidents by allowing dirt and water to fall through it. The product also can withstand a 750 pound-per-wheel surface load. A variety of tread insert options are available including heavy-duty carpet, serrated aluminum and recycled rubber in over 60 color choices.
Renee Hite, C/S Facility Sales Manager, says, "Thank you to the readers of Retrofit for this honor. We are very proud of our PediTred LP."
For more information about Construction Specialties, visit their website.
About Construction Specialties
Construction Specialties manufactures and sells specialty architectural products internationally, with over 30 offices and manufacturing facilities worldwide. Its products include interior wall and door protection, entrance flooring, expansion joint covers, louvers, grilles, sun controls, explosion vents, smoke vents, and cubicle track/curtains. The company serves architects and designers, building owners, facility managers and contractors. Construction Specialties, Inc. was founded in 1948 and is headquartered in Lebanon, New Jersey.