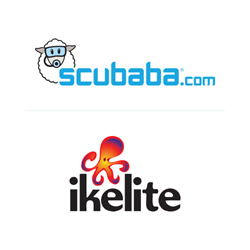 We are thrilled to be partnering up with Ikelite to help raise the awareness of underwater photography.
Indianapolis, IN (PRWEB) April 01, 2015
Scubaba.com, the world's only real-time scuba diving reservation and dive management solution, is pleased to announce its alliance with Ikelite Underwater Systems, the leading manufacturer of flashlights and underwater photographic equipment since 1962. The partnership, beginning in April 2015, will help raise awareness of both brands through underwater photography. As part of the sponsorship Ikelite will be providing educational content to be shared with Scubaba's users.
"We are thrilled to be partnering up with Ikelite to help raise the awareness of underwater photography. It is great to be able to partner up with another Indianapolis-based Scuba company!" said Andrew Mills, CEO of Scubaba. "Ikelite is a leader in our industry both from a technology standpoint as well as an educational standpoint."
Starting in April, Ikelite will become the title exclusive sponsor for Scubaba's Amateur Photographer of the Month series. Scubaba's Amateur Underwater Photographer of the Month feature started January 2014 and has featured amateur photographers from around the world. Ikelite will be recognized as a sponsor on Scubaba's site and social media and will provide a monthly prize to the Photographer of the Month.
"We strive to do more than just make a great product. We are always looking for ways to connect with the customer and help them to explore their creativity and discover their individual vision. Since Scubaba helps to connect customers with their dream dive vacations, this is a great match for us" said John Brigham, Marketing Director of Ikelite. "We are looking forward to working with Scubaba to help demystify underwater photography and inspire budding underwater photographers."
Mills concluded, "Through this partnership, we aim to encourage divers to try underwater photography, and with more divers taking underwater photos, the greater we can expose and protect the wonders of the underwater world."
About Scubaba.com
Founded in 2012, Scubaba.com "buddies up" with diving operations all around the world to provide scuba divers the ability to make dive reservations online in real-time, in one convenient, secure website. Divers can easily search dive operators, read and leave reviews, and reserve new dives and trips, all while earning points towards free dives. To learn more, visit http://www.scubaba.com.
About Ikelite
Since 1962, Ikelite has been manufacturing waterproof flashlights, camera housings and photographic accessories for scuba divers. With full-featured housings to suit almost every popular camera from point-and-shoot to DSLR, plus all types of lighting and accessories, there is something to suit every level of underwater photographer. To learn more, visit http://www.ikelite.com