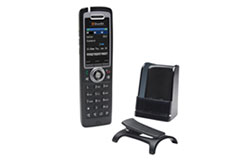 Naperville, Illinois (PRWEB) April 15, 2015
ShoreTel Chicago telecommunications dealer, ATI, is excited to announce the addition of the IP Phone system from leading communications provider ShoreTel, the IP Phone 930D. In celebration of this great product, the Chicago ShoreTel phone company is offering customers an exclusive buy-one-get-one-free deal on the product while supplies last.
As part of their BOGO celebration, the ShoreTel Chicago company created an exclusive demonstration video highlighting all the special features and practical usage of the newest featured phone within ATI's ShoreTel inventory. See how the phone works in action by watching the short promotional clip.
The IP 930 Deck phone is the perfect wireless communication tool for the workplace, allowing crisp, clear conversation even in the most secluded of places. Whether in the copy room or the warehouse, the IP 930D provides long-range service on up to three phone lines, compatibility with up to 40 handsets, and up to 12 hours of talk time and 5 days standby battery life.
The phone also comes equipped with a simple, easy-to-read 176 x 200 pixel backlit display screen, four function keys, three soft keys, a 2.5mm headphone jack, a charging dock station and external antenna. Additional antenna can be purchased to help increase the wireless range for larger locations for an additional price.
As with all ShoreTel IP communication devices, the IP Phone 930D is one of the highest quality, long-range communication devices out on the market currently. ShoreTel is known for providing the best in wireless communication service worldwide and has a long-standing partnership with the Chicago ShoreTel dealers, ATI.
For more technical information about the IP Phone 930D as well as the demonstration video, be sure to check out the ATI website.