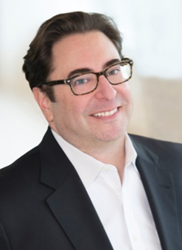 "By creating a Lifestyle Ambassador role, Federal Realty is continuing to demonstrate our commitment to innovation and operating excellence." Deirdre Johnson, Vice President of The Stories for Federal Realty Investment Trust
Rockville, Maryland (PRWEB) April 01, 2015
Federal Realty, a recognized leader in the ownership, operation and redevelopment of high-quality, retail-based properties, today announced the recent addition of Greg Timpone as Lifestyle Ambassador of The Stories at Congressional Plaza. The Stories, created by Federal Realty and Smart Living 360, focuses on a unique combination of services, amenities and design features that enables residents to live well and write their next chapter in life.
Mr. Timpone is the onsite Lifestyle Ambassador at The Stories, a role expressly created to facilitate The Stories' key principles of connection, access and simplicity. Greg's career began in Manhattan where he honed his creative skills working in the fields of publishing, fashion, interior design, beauty, and special events. He then moved to Los Angeles to pursue and develop a career in hospitality, specifically as a luxury hotel Concierge at the St. Regis, Four Seasons, and InterContinental hotels. He was accepted by the prestigious Les Clefs d'Or, the international society of professional hotel Concierges.
"I'm thrilled to be able to bring my hospitality, design, event planning, food and travel background to The Stories," stated Mr. Timpone. "The opportunity to craft a pivotal role within a new 55+ housing concept is incredibly exciting."
As the Lifestyle Ambassador, Greg will provide connections to services, programs and wellness options as well as create opportunities for personal interaction between neighbors and the neighborhood. He will get to know each resident and create individual lifestyle plans that incorporate the needs and goals of each resident.
"By creating a Lifestyle Ambassador role, Federal Realty is continuing to demonstrate our commitment to innovation and operating excellence," stated Deirdre Johnson, Vice President of The Stories for Federal Realty Investment Trust. "Our research shows that maintaining and growing community connections is a high priority for residents. Greg Timpone is going to deliver exceptional experiences at The Stories to foster those connections."
The Stories is currently taking priority list deposits and will be reserving apartment homes in Spring 2015. Construction is expected to be complete by Fall 2015. To learn more about The Stories, visit http://www.thestories.com or call 301.289.7573.
###
ABOUT THE STORIES
The Stories is a new kind of 55+ community designed with well-being in mind. Building on its key principles of connection, access and simplicity, The Stories inspires and empowers its residents to write the next chapter of their life journey and to do so on their terms. This 48-unit apartment community, located in Rockville, Maryland, is part of Congressional Plaza, a 380,000 square foot community shopping center anchored by The Fresh Market, The Container Store and Last Call by Neiman Marcus. Construction is scheduled to be complete in the fall of 2015. For more information, please visit http://www.thestories.com.
ABOUT SMART LIVING 360
Smart Living 360 is a development and operating company focused on delivering innovative living experiences with a particular focus on older adults. We believe that that many of today's older adults wish to rewrite their life course, opting for a life different than traditional retirement. We partner with our members by designing and enabling living environments that appeal aesthetically and enhance personal well-being, deliver select services and amenities in a customized and easy to use fashion, and adapt as one's needs change, often leveraging technology. We are presently focused on developing and operating great apartment and condominium homes tailored for older adults in walkable, mixed-use urban and suburban areas. For more information, please visit http://www.smartliving360.com.
ABOUT FEDERAL REALTY
Federal Realty is a recognized leader in the ownership, operation and redevelopment of high-quality retail based properties located primarily in major coastal markets from Washington, D.C. to Boston as well as San Francisco and Los Angeles. Founded in 1962, our mission is to deliver long term, sustainable growth through investing in densely populated, affluent communities where retail demand exceeds supply. Our expertise includes creating urban, mixed-use neighborhoods like Santana Row in San Jose, California, Pike & Rose in North Bethesda, Maryland and Assembly Row in Somerville, Massachusetts. These unique and vibrant environments that combine shopping, dining, living and working provide a destination experience valued by their respective communities. Federal Realty's 89 properties include over 2,400 tenants in approximately 20.1 million square feet of retail space and 1,500 residential units.
Federal Realty has paid quarterly dividends to its shareholders continuously since its founding in 1962, and has increased its dividend rate for 47 consecutive years, the longest record in the REIT industry. Federal Realty shares are traded on the NYSE under the symbol FRT. For additional information about Federal Realty and its properties, visit http://www.FederalRealty.com.