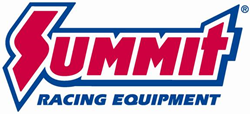 Tallmadge, OH (PRWEB) April 01, 2015
Enthusiasts don't have to mess around mixing and matching hose, hose ends, adapters, and other plumbing when they can do all of the fluid systems on a car with high quality Aeroquip products. Aeroquip has been engineering and manufacturing its hose and fittings for over 75 years—and it's still the only performance plumbing supplier that does.
Summit Racing carries a monster selection of Aeroquip products:
Hose
Aeroquip makes hose for practically every fluid system on a vehicle:

AQP Series stainless steel braided hose for fuel, oil, and coolant
TFE Racing hose for brake, clutch, transmission, and nitrous systems
AQP High Pressure hose for power steering, fuel, and hydraulic systems up to 2,000 psi
Startlite Racing hose—45% lighter than conventional braided hose, approved by NHRA, IHRA, and NASCAR
AN Hose Ends

Reusable Hose Ends feature a compression-style design that allows resuse without damaging the fitting. The one-piece design improves flow and eliminates potential leak points. The hose ends are available in swivel and non-swivel versions
Socketless Hose Ends are designed specifically for use with Aeroquip AQP socketless hose. Connecting them is as easy as slipping the hose over the fittings. The one-piece design improves flow and eliminates potential leak points
Crimp Style Hose Ends are designed for high pressure fluid systems. They must be used with Aeroquip's Startlite, TFE Racing, and AQP high pressure hose
Adapters and Fittings
From AN to metric or NPT adapters to air conditioning, brake, carburetor, and fuel line fittings, Aeroquip has everyone covered. Need weld-in bungs, crush washers, reducers, or plugs? Summit Racing has those too, plus vise jaw inserts, hose cutters, and other plumbing tools.
Summit Racing Equipment
http://www.SummitRacing.com
1-800-230-3030