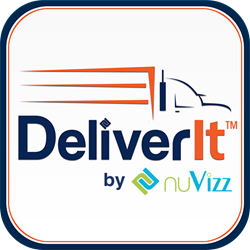 Consumerization of business processes will transform the eCommerce business, especially the delivery component. DeliverIt Etail...," says CEO Gururaj Rao.
Atlanta, GA (PRWEB) March 30, 2015
nuVizz, Inc. is a mobile business software solutions company headquartered in Atlanta, GA with offices in France and India.
Mobility offers tremendous opportunities for enterprises with benefits of real-time visibility, productivity improvement and reduced capital expenditure. But, the fragmentation in technology solutions has become a serious bottleneck for enterprise IT. The lack of standard off-the-shelf mobile solutions has pushed enterprises to build mobile solutions on their own.
nuVizz helps companies in accelerating mobility adoption with innovative line of business (LOB) mobile SaaS products. And when companies are looking for solutions that do not exist, nuVizz's unique approach "mWork" (Mobile Work By Design) helps companies implement mobile solutions cost effectively with our "Zero to Beta in 60 Days" offering.
At Click & Collect 2015, nuVizz will showcase a proven mobile platform "DeliverIt Etail." DeliverIt provides a single mobile platform to manage customer deliveries whether it is Scheduled Delivery, Same-Day Delivery, or Store Pick-up and makes working with your partners (customers and delivery companies/personnel) a breeze. Let nuVizz revolutionize your supply chain logistics using a mix of proven technologies like Cloud computing and mobility software with DeliverIt Etail.
Key Benefits of DeliverIt Etail:

Order / Shipment tracking
Managing multiple business partners
Delivery information tracking
Delivery visibility
Create paperless environment
Geo tracking of deliveries on map
Visibility to Delivery start time, stop arrival, stop departure, current shipment status real time.
"Consumerization of business processes will transform the eCommerce business, especially the delivery component. DeliverIt Etail, our mobile delivery tracking and execution platform can set you apart from your competition with seem less capability for different models of delivery," says nuVizz CEO Gururaj Rao.
Click & Collect 2015 is a free exhibition where Big Box and mid-size retailers, etailers, brands, Grocers, and their solution Providers Gather to Show case services and stay abreast of the trends in retail. Visit http://www.terrapinn.com/visithomedelivery to activate your free visitor pass- and don't forget to enter promo code VISITICKET .
Visit clickandcollect.nuvizz.com for more information on demo times and meeting with our sales experts.
About nuVizz, Inc.
nuVizz is a business solutions and services company which provides a complete mobile business SaaS solutions and Supply Chain consulting services. Headquartered in Atlanta, Georgia, USA, with offices in India and France, nuVizz has seen exponential growth since inception. We've introduced a strong portfolio of mobile apps and a comprehensive enterprise mobile toolkit, all supported with our team of core business process and mobile solutions experts. On the consulting side, nuVizz has built an impressive portfolio of clients and a wealth of expertise in bringing to fruition supply chain projects of various magnitudes. For more information visit http://www.nuvizz.com.
About Home Delivery World 2015:
Home Delivery World started out as a small conference with the goal of helping retailers get their products to their consumers. eCommerce, however, is an industry exploding with growth and now so is our once-modest conference.
2014 marked a move to Atlanta and twice the participants and sponsors as the 2013 event. Now for this year, we've added two conferences, a massive expo, and are ready to tackle all parts of the online shopping experience, from initial online purchase to delivery or collection.
This is the only event to bring together retailers to learn about innovations across home delivery, Click & Collect, and eTail. - See more at: terrapinn.com/visithomedelivery
About Terrapinn:
Terrapinn is an international business media company with products including trade exhibitions, conferences, training solutions and electronic and print publications. Terrapinn is the first business media company to specialize in home delivery and click & collect sectors in the US.
Media Contact:
nuVizz Inc.,
marketing(at)nuvizz(dot)com
(404) 937-1971