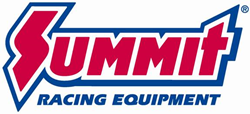 Tallmadge, OH (PRWEB) April 03, 2015
Want to go all handling and stance on your 1964-66 GM A-Body or 1967-70 Mercury Cougar? Thanks to Eibach, upgrading the suspension is as easy as ordering one of the latest Pro Series suspension kits from Summit Racing. These kits improve turn-in response, increase cornering speed, and reduce body roll while retaining excellent ride quality.
The Pro-System is available in several stages:
Pro-Plus Handling Kits
The Pro-Plus Kits combine Eibach's Pro-Kit coil springs with a matched set of front and rear anti-sway bars. The package lowers the car's center of gravity, reducing squat during acceleration, body roll in corners and excessive nose-dive under braking. The kits will drop a car approximately one inch.
Pro System and Pro System-Plus Kits
These kits combine coil springs and anti-sway bars with a set of Pro Damper shocks. The twin-tube hydraulic shocks are tuned for maximum performance, but without excessive stiffness or ride harshness. The Pro System kits come with Eibach's Sportline springs that will lower the car approximately two inches. The Pro-Plus kits have Pro-Kit springs that are more aggressively wound for improved handling.
Pro-Kit Lowering Springs
These progressive-rate coil springs are an easy way to tighten up a car's handling and improve its looks. They'll drop a car from one to 1.3 inches depending on application, and help improve handling by lowering the center of gravity. Pro-Kit springs are available for 1964-72 GM A-Body.
Summit Racing has Pro System kits for many other vehicles including Fox body and late model Mustang, 2011-15 Camaro, 2005-up Dodge Charger and Challenger, and late model GM truck.
SEE EIBACH'S PRO SERIES SUSPENSION KITS FOR GM A-BODY AND COUGAR AT SUMMIT RACING
Summit Racing Equipment
http://www.SummitRacing.com
1-800-230-3030