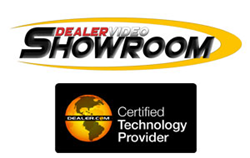 Consumers want an online vehicle shopping and researching experience that is progressive and efficient, and helps them advance through the shopping journey
Acton, MA (PRWEB) April 02, 2015
WheelsTV, the nation's leading developer and distributor of interactive video technology, today announced it has received certification from Dealer.com to be a part of its Certified Provider Program. Dealer.com, a Dealertrack Technologies solution, is the industry's leading provider of digital marketing and advertising solutions for automotive retailers.
The Dealer.com Certified Provider Program qualifies companies that have proven value, security, efficiency, and return on investment, and assures customers they are choosing the most complementary software and services. As a Dealer.com certified provider, WheelsTV's suite of interactive video solutions is now easily accessible through Dealer.com's ControlCenter and seamlessly integrated into the overall Dealer.com solution.
"We are excited to become a certified provider for Dealer.com and share in the company's commitment to providing leading solutions for auto dealerships," said Lehel Reeves, WheelsTV president. "As an interactive video element of Dealer.com's overall offering, WheelsTV adds engagement, knowledge and motivation to the car shopping experience that only full-motion interactive HD video can deliver."
WheelsTV's Dealer Video Showroom (DVS) provides dealerships and their online car shoppers with instant access to interactive video test drives of every popular light vehicle from 2008 to present. This advanced video solution can be deployed quickly and easily on Dealer.com websites, including dealerships' all-important Inventory Vehicle Detail Pages (VDPs) and Search Result Pages (SRPs).
"Consumers want an online vehicle shopping and researching experience that is progressive and efficient, and helps them advance through the shopping journey," said Brian Green, senior director, Corporate Business Development, Dealertrack. "WheelsTV helps bring the shopping experience to life with its interactive videos, and can make the showcasing of inventory much more appealing to the consumer, keeping them more engaged with a particular dealer. It's a great tool that can be a strong competitive advantage when showcasing inventory."
With the Dealer Video Showroom, car shoppers experience the beauty, action, fun and excitement of virtually test-driving any vehicle they are considering. Informative chapters on Performance, Fuel Economy, Safety, Accolades, Exterior Features and Interior Amenities can be instantly accessed, providing dealers with an essential video sales tool that builds trust, enhances goodwill and helps car shoppers to quickly and easily become car buyers.
The Dealer Video Showroom provides every Dealer.com dealer with the opportunity to showcase year/make/model videos covering their entire inventory. These high definition interactive video test drives can be played on all screens including desktops, tablets, and mobile devices.
About Dealer.com:
Dealer.com, a Dealertrack Technologies Solution (NASDAQ: TRAK), provides an integrated platform of Inventory, Advertising, Website and CRM products which allow OEMs, dealer groups, retailers and agencies to leverage advanced digital technology and data to better engage and connect with their customers. Based in Burlington, Vermont, Dealer.com practices a deep commitment to its culture of innovation, with a focus on health and wellness, making it one of the most desirable places to work, and a valuable partner for automotive retailers.
About WheelsTV
Automotive Networks Corporation, d/b/a WheelsTV, is a media technology company that creates and distributes cutting-edge video platforms and original automotive content, viewable on all screens. Patent-pending products include the Dealer Video Showroom and iDrive Interactive Video Player. WheelsTV is dedicated to helping dealers and the motoring public to conduct business more quickly, easily and efficiently through the use of emerging digital technologies. Our teams in Los Angeles and Boston are at your service.