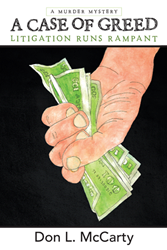 A solid thriller at its best in lawyer mode
BANNING, Cali. (PRWEB) March 29, 2015
At first glance, engineering and the law do not seem to have much in common. However, engineering and law have perfectly combined as parts of author Don L. McCarty's many past experiences, providing framework for his work as an author.
McCarty has an impressive list of life experiences. Born in Canada, McCarty enlisted in the United States Navy during the end of World War II at the age of 17. After serving, McCarty began university and started working as a design engineer.
McCarty worked in the fields of automotive, nuclear and aerospace design engineering. Employment with Ford Motor Company, NASA and working on the Enrico Fermi Atomic Breeder Reactor Program are just a sample of the many achievements on this author's impressive resume.
McCarty did not stop there though—he attended law school and received his Juris Doctorate degree, practicing law for 30 years. It is this collective experience that provides a unique framework for the powerful and engaging writing of McCarty.
And McCarty has done it again with his latest book, "A Case of Greed." In this murder mystery, the past and present collide with ethical ironies as a secret is unveiled and a tenacious attorney attempts to piece together a conspiracy in time to save its innocent victims from a bleak destiny.
Through a masterful use of language, complex characters and an original storyline, McCarty has created a mystery that will jump off the pages, into the minds of readers, and leave them wanting more.
According to Kirkus Indie Review, "A Case of Greed" is "a solid thriller at its best in lawyer mode" and it "steers clear of a superficial wrap-up."
For more information, visit donlmccarty.com or archway.com
"A Case of Greed: Litigation Runs Rampant"
By: Don L. McCarty
ISBN: 978-1-4808-1165-2
Available in softcover ($16.99) and e-book ($3.99)
Available on Amazon, Barnes & Noble and Archway Publishing
About the author
Don L. McCarty was born on a farm in Canada. He enlisted in the United States Navy during the end of World War II. Then began university and work as a design engineer in the fields of automotive, nuclear, and aerospace, including NASA. He is a member of the California and Federal bars. McCarty resides near the mountains in California.
# # #
**FOR IMMEDIATE RELEASE**
For review copies or interview requests, contact:
Daniel Pearson
317.602.7137
dpearson(at)bohlsengroup(dot)com