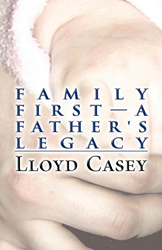 "I wrote about my childhood, service in the navy, how I met their mother, and my misadventures while trying to make a difference for the better." - Lloyd Casey
(PRWEB) April 02, 2015
"Family First – A Father's Legacy" was written by Lloyd Casey from 1980 to 2010. It is the story of his extraordinary life and the legacy he leaves to his family.
Casey was a state senator in Colorado who became a champion for allowing farmers to grow industrial hemp and actually coined the phrase when he introduced the first bill to legalize it. Although a part of the "Greatest Generation," he was an idealistic individual with a maverick streak. His efforts for hemp legalization came to fruition in 2012, when the crop became legal to grow in Colorado. Marijuana became legal for personal use at the same time. At the bill's signing, which Casey attended, Gov. John Hickenlooper referred to him as the "Father of Industrial Hemp." His efforts brought about this landmark legislation.
Seven children were born to Casey and his wife from 1950 to 1969. He wrote his memoir so they would know more about him and have a written account to pass on to his grandchildren and great-grandchildren.
But his book is also a tribute to a man who fought for his beliefs and never gave up, even when the odds were highly against him.
About the Author: Lloyd Casey was born in 1926 in Anaheim, California. He lived in Nevada as a child, enlisted in the navy in 1944, and served on a destroyer as a radioman in the South Pacific. He graduated in 1950 from St. Vincent college in Latrobe, Pennsylvania. He and his wife Grace, now married for 65 years, have five sons and two daughters, 13 grandchildren and seven great-grandchildren. "My story begins in January 1980, as I tell our seven children, ages 30, 28, 26, 24, 21, 17 and 11, that my intention is for them to know more about their father. During the course of the year, I wrote about my childhood, service in the navy, how I met their mother, and my misadventures while trying to make a difference for the better."
FAMILY FIRST – A FATHER'S LEGACY (ISBN: 978-1-62709-134-3) is available in softcover as well as digital editions and can be ordered through the publisher's website or at Amazon and Barnes and Noble online.