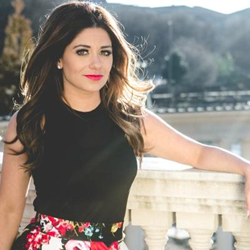 ATLANTA, GEORGIA (PRWEB) March 30, 2015
Kristina Fitzpatrick, formerly of the MLB Network, is proud to announce that she will be joining the Fox Sports South/SportSouth broadcast team covering the Atlanta Braves for the upcoming 2015 baseball season.
Fitzpatrick, née Kristina Akra, will be sharing the reporter role with Jenn Hildreth and Paul Byrd for Braves home and away games broadcast by Fox Sports South/SportSouth. Her first game will be the Braves' home opener on Friday, April 10, 2015, when the team will take on the New York Mets at 7:35 p.m. at Turner Field.
"I'm incredibly excited to begin working with the broadcast team for the Atlanta Braves," said Fitzpatrick. "It's a fantastic career opportunity with a great baseball franchise, and I'm looking forward to getting back to Atlanta and working with the Fox Sports South/SportSouth team again."
Most recently, Fitzpatrick resided in New York City, where she was a host/reporter for the MLB Network for the past two seasons. On the MLB Network, she appeared on baseball talk shows "High Heat with Christopher Russo" and "MLB Now." Prior to that, she worked as a reporter for the Mid-Atlantic Sports Network broadcast team covering the Washington Nationals.
As a Braves season ticket holder and local business owner, Fitzpatrick's husband is excited about the move as well.
"I'm so proud of Kristina and all her accomplishments, and this new opportunity is great news for our family," said John Fitzpatrick, CEO and President of Atlanta-based automotive marketing firm Force Marketing. "Throughout baseball season, I bring clients and friends to Braves games often, and that will be all the more exciting now that my wife is a part of the organization."
Fox Sports South/SportSouth will be televising 155 regular-season Braves games this season, as well as six Spring Training games.
Fans of Fitzpatrick can follow her on her Twitter account, @KA_Fitz, or visit her website at http://www.kristinafitzpatrick.com.
ABOUT KRISTINA FITZPATRICK
Kristina Fitzpatrick, née Kristina Akra, is a seasoned host and sports reporter who has co-hosted MLB Now, High Heat with Christopher Russo, and has appeared across MLB Network programming. Formerly, she covered the Washington Nationals for MASN and co-hosted SEC GridIron Live on Fox Sports South/SportSouth, and reported for several other sports networks. She is a graduate of the University of Florida, where she was a four-year member of the University of Florida "Dazzler" Dance Team.