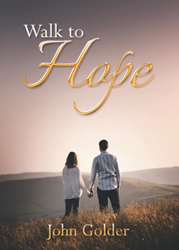 It is exciting to see and hear about young people who were looking at a life without hope, even considering suicide, who've decided to believe in themselves, their dreams and to have a vision for their life
Sydney (PRWEB) March 27, 2015
Everyone needs to have a dream or a vision to have a sense of purpose with which to greet each day, built on the achievement and failures of yesterday. That will give us hope for tomorrow even in the midst of the darkest days. It is with this sentiment that author John Golder approaches not only his daily life, but also his writing.
Golder, along with his wife Bev, has been a supporter of an organization called "Your Dream in School." This organization goes into schools across Australia to talk to students about the importance of dreams and visions for their life.
"It is exciting to see and hear about young people who were looking at a life without hope, even considering suicide, who've decided to believe in themselves, their dreams and to have a vision for their life," Golder said.
It is with that same commitment to helping and inspiring youth that Golder came to write his debut novel, "Walk to Hope." In his writing, Golder does not shy away from the important themes of bullying, acceptance and unconditional love. However, he embraces the realities and pressures of growing-up in today's world.
Complete with subtle Christian undertones, "Walk to Hope" will leave readers with the sense that they are not alone in their trials and tribulations, and that through persistence, vision and kindness, there is hope for their tomorrow.
For more information, visit walktohope.com.au or balboapress.com
"Walk to Hope"
By: John Golder
ISBN: 978-1-4525-2436-8
Available in softcover $28.99) and e-book ($3.99)
Available on Amazon, Barnes & Noble and Balboa Press.
About the author
John Golder has a lifetime of sales, training and management roles combined with years of encouraging others to dare to dream for something more for their lives. "Walk to Hope" is Golder's first book. He is passionate about writing and hopes to provide youth with the inspiration to achieve their dreams.
For review copies or interview requests, contact:
Daniel Pearson
317.602.7137
dpearson(at)bohlsengroup(dot)com