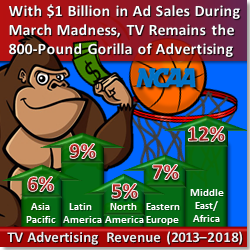 As consumers watch media on more platforms and the pie of distribution channels keeps getting sliced, TV will remain the 800-pound gorilla of the ad industry. Our gorilla will simply eat more pie.
Los Angeles, CA (PRWEB) April 01, 2015
With more YouTube channels to watch, Instagram pictures to take and more Facebook friends to like, a generation of TV viewers who used to watch more television are now finding entertainment elsewhere. This fundamental shift in the make-up of the traditional television audience has prompted many new media companies to predict the demise of traditional TV advertising.
In recent months, there has been no shortage of startup CEO's who have boldly predicted their companies would steal millions of viewers and billions of dollars in advertising revenues from broadcast TV and Cable companies.
But at least one TV advertising exec is sick of it all.
Scott Kowalchek, who manages successful DRTV advertising campaigns for national advertisers, says the latest straw to break the back of his patience, was a news story he read about Snapchat, a photo and video messaging startup, valued at a staggering $19 billion; this, despite the fact that the 4-year old company has almost no revenues (see Gigoam News Article on Snapchat valuation 2.24.15). Beyond its lofty valuation, however, what appears to anger ad execs like Kowalchek is the fact that Snapchat is the latest new media startup to be described as the final nail in the coffin of traditional TV advertising. Is the Snapchat business model so promising that it deserves a market value equivalent to almost a third of the $66 billion generated by cable and TV advertising last year? Will the startup's growing audience of millennials prompt a multi-billion dollar shift of advertising dollars away from television? "Why are we even asking these questions? This is insane," said Kowalchek, succinctly summarizing how many profitable TV ad buyers and advertisers view the lofty valuation and commercial threat from Snapchat.
While it is true that advertisers are spending more in online advertising each year, they're also spending more on direct response campaigns on broadcast and cable television.
According to a study by Price Waterhouse Coopers (review the study here), TV and cable companies are successfully responding to the rise of newer forms of digital media. The result: TV advertising revenues are expected to grow globally at an average rate of 5.5% through 2018. The study appears to support an argument that TV ad buyers like Kowalchek routinely share with their prospects – TV remains the 800 pound gorilla in the industry, the "place to be" for advertisers looking to reach big audiences.
This week, one of the most coveted venues for big audiences is the NCAA basketball tournament. Figures just released predict that by the time the final four teams play Thursday and Friday advertisers will have spent more than $1.1 billion for nationally-televised commercials during the tournament (read BreitBart article on March Madness revenues 3.27.15); that's more than twice the amount TV advertisers spent on the tournament in 2005. "One of the reasons it's called March Madness is because no one is ever able to predict – with absolute certainty – which team is going to win the tournament," said Kowalchek. "Off the court, however, we know who wins every year – we do!". If there were an advertising version of the NCAA tournament, Kowalchek predicts low revenue startups like Snapchat would be blown out in the first round.
Another success story can be found in the UK, where it was announced last week that TV ad revenues increased for the fifth consecutive year, up 6 percent to a record high of $4.91 billion (see MediaWeek article 3.10.15).
"For advertisers who care more about the bottom line (viewers and market penetration) and less about speculative startup valuations, there is no doubt that TV dominates the advertising world," said Kowalchek. "No other form of advertising can do what TV does. And, as TV viewing evolves to become more flexible for viewers, this is opening up new opportunities for brands to harness its power." Kowalchek, like other TV ad executives, agrees with new media pundits on one trend - the symbolic pie of media distribution will get sliced in a variety of new and exciting ways because of new technologies and the new portable and mobile platforms they offer to consumers. But as long as the greatest volume of video content comes from network and cable television providers, Kowalchek believes his industry will thrive. "If television is the 800-pound gorilla of advertising and the pie of distribution channels keeps getting sliced", Kowalchek predicts. "Our gorilla will simply eat more pie."