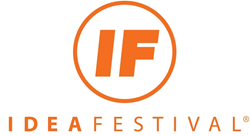 IdeaFestival creates an opening for disruptive change and provides a platform to bring real-world relevance to innovative ideas." Kris Kimel, IF Founder
Louisville, KY (PRWEB) March 30, 2015
IdeaFestival® 2015, a leading celebration for creative thinkers and the intellectually curious, announces that event tickets are now on sale. The Festival boasts numerous speakers and performers who will inspire, entertain, promote and encourage the cross-fertilization of ideas and innovation from Sept 29 - Oct 2, at The Kentucky Center. Festival Passes are now available at the early bird rate of $350.
This powerful, four-day event brings together an impressive list of emerging and well-known influencers from a variety of disciplines including science, the arts, design, business, film, technology, education and much more – all working towards the convergence and exploration of how ideas shape our future. Initial speakers and influencers announced to date for 2015 include:

David Epstein is a senior writer at Sports Illustrated and author of The Sports Gene: Inside the Science of Extraordinary Athletic Performance.
Stephanie Freid reports from the world's conflict zones as a television correspondent. She is currently working for CCTV International (China).
Ndaba Mandela, grandson of Nelson Mandela and Co-Founder & Chairman of Africa Rising Foundation, carries his grandfather's torch to keep its beacon of hope bright, fueling its fiery message that "one person can make a difference."
Christine Kenneally is an award-winning journalist and author who has written for The New Yorker, The New York Times, Slate, New Scientist and other publications about the intersection of science, language and culture.
Tickets for IdeaFestival's annual kick-off day, Thrivals 8.0, are also available as an addition to a Festival Pass purchase for only $49. Thrivals is a fun, mind bending, future focused, innovative, leading edge and thought provoking learning experience where humans of all identities are challenged by each other to think about new ideas, rethink old assumptions, build on the minds of others, to become, to do, to understand, to otherwise live this single planetary experience to its fullest. Thrivals sets the tone for the IdeaFestival each year and caters to broad thinkers of all ages with a focus on high school and college students. Thrivals 8.0 will be held on Tuesday, September 29, 2015.
IdeaFestival offers attendees an opportunity to explore diverse ideas and innovations outside their day to day work environment and gain a renewed sense of wonder and curiosity. The event attracts early adopters and thought leaders who want to be exposed to new ideas and new ways of thinking, such as:

Global, national and local influencers;
Entrepreneurs;
Business and community leaders;
Young professionals; and
World thinkers, makers and doers looking to connect with other like minds
Please visit ideafestival.com for more information and to buy tickets. Stay Curious!
About IdeaFestival®
Founded in 2000, IdeaFestival® is a celebration for the intellectually curious. It's an eclectic network of global thinkers and one-of-a-kind innovators bound together by an intense curiosity about what is impacting and shaping the future of the arts, business, technology, design, science, philosophy and education. The content of IdeaFestival is as diverse as the network itself. In the words of one participant, "At IdeaFestival, seemingly unrelated topics offer surprising relationships and insights."
The conference is held every Fall in Louisville, Kentucky at The Kentucky Center, a beautiful and historic venue that houses artworks by such 20th century masters as Joan Miró, Jean Dubuffet, Louise Nevelson, John Chamberlain and Alexander Calder. The setting, thought-provoking sessions and informal tone make IdeaFestival a truly unique experience. Those who attend leave the event with interesting new ideas, a better sense of connectedness, an expanded network of relationships and lasting inspiration to help create change in the world.
Follow us @ideafestival and #IF15.