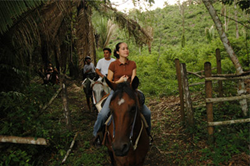 Chaa Creek's all-inclusive Belize vacation packages allow guests to relax and get the most out of their holiday by concentrating on what they really want to do
San Ignacio, Belize (PRWEB) March 30, 2015
It's time to start planning a Belize summer vacation, according to The Lodge at Chaa Creek, as the Belizean eco resort begins accepting bookings for three new all-inclusive Belize vacation packages that will to appeal to families, the health conscious and teachers looking to get the most out of the summer holidays.
Chaa Creek's co-owner and general manager Lucy Fleming said that the three all-inclusive Belize vacation packages are tailored to offer those guests with special interests the most fulfilling vacations for the lowest possible prices.
"After over thirty years experience in providing a variety of Belize vacation packages, we have a good idea of what people with specific interests are looking for, and by tailoring packages towards those interests, we're able to offer very satisfying vacations that represent excellent value," Ms Fleming said.
"For example, our Belize Family Summer Adventure is loaded with activities that experience shows us appeal to family members of all ages, meaning that everyone gets the most out of their time here together.
"Similarly, our Belize Summer Solstice Wellness package is designed for people who want to focus on health and wellbeing while enjoying a Belize vacation.
"Our Teachers' Summer Adventure is our way to acknowledge the good work that teachers do worldwide, and as a way to say thank you," Ms Fleming, a former English teacher, added.
Each Chaa Creek all-inclusive Belize vacation package includes accommodation, all meals, activities and tours, transfers, a visit to the Belize Zoo, staff gratuities and government taxes for one set price.
Guests also enjoy access to all Chaa Creek's amenities, including an infinity pool, fine dining restaurant and lounge featuring farm fresh organic food and a climate controlled wine cellar, as well as a butterfly farm, the Natural History Centre, Maya medicinal plant trail and organic farm, an internationally recognised Hilltop Spa, and more.
"By removing the burden of having to plan each and every detail and taking away the worry of cost blow-outs and unwelcome surprises, our all-inclusive Belize vacation packages allow guests to relax and get the most out of their holiday by concentrating on what they really want to do, whether it's bridging the generation gap with shared adventures and spending quality time together or taking the time out to look after your health and wellbeing while learning new things," Ms Fleming said.
Ms Fleming added that Chaa Creek packages offer flexibility, and that the Belizean eco resort has a team of vacation planners who work with travellers.
"We work closely with our guests and don't mind spending time to answer questions and make suggestions to enhance their vacations. We've built a reputation as Belize's 'Destination within a destination' due to the many things we offer right here within our 365 acre private nature reserve, and with a nationwide network of colleagues throughout Belize, the Caribbean coast, barrier reef and cayes, we can offer seamless vacation experiences that are truly unique.
"All people need to do is to visit our website, contact our offices or go through their travel agents and I think they'll be surprised at how easy and affordable it is to enjoy an exceptional Belize vacation that's tailored to their interests.
"We understand that time is precious, and we're here to help travellers make the most of it. Its something we've been priding ourselves on for over three decades," she added.
The Lodge at Chaa Creek is a multi award winning eco resort set within a 365-acre private nature reserve along the banks of the Macal River in Belize.