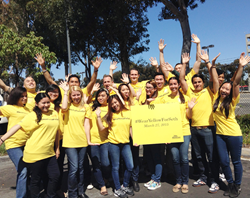 I came across Seth's video on my newsfeed and he has the same spirit as so many of the children our company cares for
Los Angeles, CA (PRWEB) March 30, 2015
On March 27th, 2015, 24Hr HomeCare traded in its traditional blue polo for yellow to inspire courage in Seth Lane, a five-year-old boy from Northamptonshire, England, who suffers from Severe Combined Immunodeficiency (SCID). SCID causes affected individuals to be susceptible to life-threatening infections, and a bone marrow transplant is needed to allow the development of functional immune systems. Lane, who underwent his second transplant last Friday, created a video with his family requesting its viewers to wear his favorite color, yellow, to support him in his surgery. Coincidentally, yellow is also the color of immunity.
"I came across Seth's video on my newsfeed and he has the same spirit as so many of the children our company cares for," said CMO and Co-Founder, Ryan Iwamoto, "Our team was similarly moved by his request, and we decided we had to do something for Seth."
24Hr HomeCare, which works closely with the State of California- Regional Centers to provide professional caregiving to children with developmental disabilities, joined Lane in his fight against SCID by hosting its own #WearYellowForSeth Campaign. All staff members across its thirteen offices wore yellow t-shirts and posed for a photo holding up signage that read, "#WearYellowForSeth." 24Hr HomeCare also launched a social media campaign encouraging the individuals in its communities to take photographs of themselves donning yellow and posting them to its company Facebook page. Photos of company staff, along with all posted Facebook photos, will be included in a care package and mailed to the Lane family. The in-home care provider also redesigned its website in yellow to promote awareness of the rare disease.
To view the album of Lane's supporters in yellow, visit http://www.facebook.com/24hrhomecare. In regards to supporters' photos, the Lane family wrote, "Whenever he is struggling, we can show him your pictures."