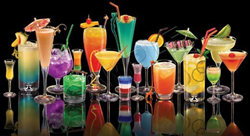 Bartenders have a very good pulse on their consumers and the most popular brands in the on premise environment today.
Scottsdale, Arizona (PRWEB) March 30, 2015
MSS, providers of strategic solutions to leveraging influence at the point of purchase, announces results from the 2014 Popular Drinks study among Bartenders in the US. Category heavyweights dominate the top five list as bartenders rank Grey Goose followed by Jack Daniel's, Patrón, Fireball and Jameson as the Most Popular Spirits Brands of 2014.
"Bartenders have a very good pulse on their consumers and the most popular brands in the on premise environment today," says Kevin Moran, President of MSS. "While one can expect to see the industry leaders dominate the top rankings, what is really interesting is watching the emergence of the new brands as their popularity increases and they replace some of the more traditional brands. This is evidenced by two high trajectory brands, Fireball (not even on the radar two years ago) ranking fifth and Tito's cracking the list at number ten this year."
The Popular Drinks Study asks over 800 bartenders to rank the most popular brands as well as the most popular drinks, shots and cocktails. Additional information is provided to participating suppliers on rankings by account type, markets and demographics that enable them to make more informed strategic decisions on how optimize drinks strategy. The most often recommended brand results for 2014 include:
Overall Brand: Grey Goose leads for the fifth straight year, as Patrón relinquishes its number two spot to Jack Daniel's for the first time in the past five years, while Tito's makes the top ten list for the first time
Straight Shots: Patron maintains top mention for the fifth year in a row, followed by Fireball (up from number four last year), Jameson, Jägermeister and Jack Daniel's
Mixed Shots: The top five remain the same as in 2013 led by Lemon Drop, Kamikaze, Jager Bomb, Washington Apple and Red Headed Slut. Cinnamon Toast Crunch (Fireball and Rumchata) enters the list for the first time at number nine
Cocktails: Margaritas and Long Island Iced Teas are rated as the top two most popular cocktails in 2014 followed by Martinis. Old Fashioned's climbed the top ten list from ranking ninth in 2013 to seventh in 2014. Margarita has been ranked the most popular drink in 8 of the 9 years MSS has run the study
Mixed Drinks: Whiskey & Coke overtakes Rum & Coke as the top mention for most popular simple mixed drink for the first time since the simple mixed drink question was added in 2010. Various combinations of whiskey and vodka mixed drinks round out the remaining top ten with carbonated mixers the most common (tonic, soda, Red Bull, ginger ale)
2015 Projections: Growth of the cocktail culture continues, particularly around "craft." Fireball continues explosive rise to being a top brand in spirits. Whiskey drinks growth continues, but rum drinks appear poised for a positive move according to bartenders.
Notes: The 2014 US Popular Drinks Study surveyed over 800 bartenders in the top ten US MSAs between June and August. Results are based on unaided popularity measures by bartenders that are proprietary to MSS.
MSS offers affordable, multi-sponsored, 'near custom' market research to help marketers develop tools to optimize their brand's direct to the trade marketing and sales programming to drive brand recommendations at the point of purchase. "Over the years, we have quantified and validated the importance of the Influencer," said Moran. "His critical role in driving sales to consumers at the point of purchase cannot be ignored."
MSS' staff is composed of highly trained, research professionals with a vast array of expertise on a global basis. MSS performs at the very highest standards of research protocol and provides a wealth of actionable information about Influencers in 19 categories from beverages to passenger car lubricants in nearly 50 countries, at a cost-effective price. For more information, about our alcohol/beverage studies visit us at http://mssmulti.com/our-studies/adult-beverage-influencer-studies or call 480-595-4754 ext. 1227.
Contact: Scott Snow
Phone: (480) 595-4754 ext. 1227
Email: ssnow(at)mssmulti(dot)com
###