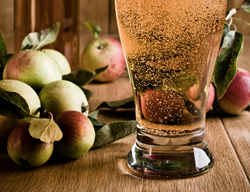 The hard cider market continues to experience unprecedented growth as a category.
Scottsdale, Arizona (PRWEB) March 30, 2015
The 2014 Most Often Recommended Cider brand results are in and Angry Orchard tops the list as the cider brand most often recommended by bartenders.
"The hard cider market continues to experience unprecedented growth as a category, as new entries and established ciders from mature markets seem to arrive daily in the space," says Kevin Moran, President of MSS. "On a more macro scale, the smaller, craft-oriented brands are growing at a much faster clip than the larger, legacy brands in most spirits categories and overall beer as well." Off premise sales of hard cider have grown over 70% year over year for the past three years. And while cider is still only a small portion of overall mix, this at home consumption growth is also realized in the on premise at neighborhood bars, pubs and casual restaurants.
The MSS US Bartender Influencer Study, now in its 10th year, asks over 15,000 bartenders their opinions and rankings of the major Cider brands. A key metric collected is share of recommendations. MSS' MORBA award program recognizes the Cider brand with the highest share of recommendations among bartenders in the annual MSS Bartender Influencer Study. Additional information is provided to participating suppliers on product image, programming exposure and effectiveness and other metrics that enable them to make more informed strategic decisions on how to position their brand among Influencers and program optimally to drive recommendations and sales. Influencers make greater than 13,000 recommendations per year on average for beer and spirits combined, with beer holding the single largest number of recommendations of all categories tracked (roughly 90% greater than vodka).
"Speaking with thousands of bartenders every year allows us to keep abreast of the latest trends in the on premise. We have been watching the appetite for craft / specialty beers continue to gain momentum among consumers and bartenders alike. But Ciders have a unique crossover appeal given their sweeter profiles, and ability to attract women to a category long dominated by males. This increases the audience to which bartenders are recommending the category and driving brand purchase," says Moran.
MSS offers affordable, multi-sponsored, 'near custom' market research to help marketers develop tools to optimize their brand's direct to the trade marketing and sales programming to drive brand recommendations at the point of purchase. "Over the years, we have quantified and validated the importance of the Influencer," said Moran. "His critical role in driving sales to consumers at the point of purchase cannot be ignored."
MSS' staff is composed of highly trained, research professionals with a vast array of expertise on a global basis. MSS performs at the very highest standards of research protocol and provides a wealth of actionable information about Influencers in 19 categories from beverages to passenger car lubricants in nearly 50 countries, at a cost-effective price. For more information, about our alcohol/beverage studies visit us at http://mssmulti.com/our-studies/adult-beverage-influencer-studies or call 480-595-4754 ext. 1227.
Notes: The 2014 US Bartender Influencer Study surveyed thousands of bartenders in the top ten US MSAs between June and August. Results are based on measures of recommendation by Influencers that are proprietary to MSS. Awards are based on numerical scores, and not necessarily on statistical significance and provided among only those brands included for ratings in MSS Influencer studies.
Contact: Scott Snow
Phone: (480) 595-4754 ext. 1227
Email: ssnow(at)mssmulti(dot)com
# # #