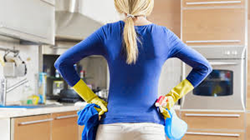 Cleaning a little bit, day after day, makes a big difference psychologically - it's goal orientated - and once completed, it will feel great!
Chicago, IL (PRWEB) March 28, 2015
Peoples Home Equity is happy spring has arrived - apart from higher mortgage activity, spring brings warmer temperatures and a positive attitude. As the weather warms, homeowners often feel the urge to clean up the home they cluttered and hibernated in during the winter, this is especially true in the Midwest and upper Northeast.
Peoples Home Equity offers the following tips to assist in one's spring home cleaning:
Store All Cleaning Supplies in One Ready Place
Given that the weather is still freezing in the Midwest, some homeowners may not be ready to open the windows and begin cleaning. However, one should at least prepare themselves for the cleanup by keeping all of the supplies stored in one readily available spot. The motivation to clean will be one step easier if one does not need to run to the store to purchase supplies or search for them in the home.
Tend to the Appliances with Love
Sinks can get dirty and disinfecting them is very important, both for scent and peace of mind to eliminate bacteria. To really clean and air out a sink, start with soap, then spray a bit of vinegar with a bit of hydrogen peroxide and let it dry.
Regarding the waste disposal system, WomensDay.com suggested that to get rid of odors, "drop in a cut-up lemon, some salt and a few ice cubes. The lemon deodorizes, and the ice and salt clean away residue."
Regarding the dishwasher, scrub off unattractive fragments of struck on food and run an empty wash cycle with Dishwasher magic. Remember to use the oven's self-clean cycle and scrub away any remnants of food or grease. Also, sponges tend to be a breeding ground for bacteria, every time a sponge is used, one should remember to rinse it out and place it in the microwave for a minute on high.
Clean Top to Bottom
Cleaning should always begin from things on top, down to the floor - this way, everything gets cleaned out as you step out of the door in the very end. To clean indoors, one may want to use a Swiffer to pick up dust, or use a broom with soft bristles. For outside, a stiffer bristle broom is needed to push away leaves and other large objects.
The Bedroom Starts with the Bed
According to WomensDay.com, the bed should be made first, followed by addressing drawers. Once the room is clean, go a step further and look for clothing that is not used or needed anymore for donation.
Keep Track of Time
If time is of the essence, a busy work scheduled or family obligations can make spring cleaning a dreadful/unwanted thought. If this is the case, change the outlook. If there is so much to clean that it seems overwhelming, break up the cleaning process into different respective days. Cleaning a little bit, day after day, makes a big difference psychologically - it's goal orientated - and once completed, it will feel great!
Peoples Home Equity encourages all homeowners to get ready for spring cleaning and hopes they enjoy the finished product.
If you are in need of a mortgage, contact a Peoples Home Equity loan officer today at: 262-563-4026