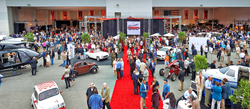 "Bringing people together is what Monterey car week is all about", says automotive aficionado Gordon McCall.
MONTEREY, CALIFORNIA (PRWEB) March 31, 2015
Acclaimed for being the kick-off event for Monterey Car Week, Gordon McCall's Motorworks Revival will celebrate its 24th year on Wednesday, August 12, 2015, at the Monterey Jet Center. Continuing the tradition, Gordon McCall's Motorworks Revival will directly benefit the CHP 11-99 Foundation.
The excitement is again unparalleled at this year's Motorworks celebration. Vintage aircraft and exquisite motorcars abound, while classics to concepts vie to steal the show. McCall Events, Inc, for the second year, has offered their VIP Red Carpet ticket to attendees, which quickly sold out earlier this month. This special VIP package will allow Red Carpet ticket holders to enter Gordon McCall's Motorworks Revival one hour early, at 4pm, and enjoy the McCall's Red Carpet Reception – where guests will be greeted by champagne, among other fine libations, along with gourmet hors d'oeuvres, Tsar Nicolai caviar, and Blue Point oysters.
Always promoting companies at the forefront of innovation, the Motorworks Revival is proud to announce its sponsorship lineup thus far, although it is early yet. In 2015, Hagerty Insurance, Pilatus Aircraft, Aeristo, WeatherTech, HondaJet, Acura, Maserati, Gulfstream Aerospace, Cirrus Aircraft, Amalgam Fine Models, Bell Helicopter, and Petersen Automotive Museum will be just a few of the prestigious sponsors to join Gordon McCall's Motorworks Revival.
In keeping with tradition, this year's Motorworks Revival is set to stun attendees as priceless motorcars and motorcycles, along with vintage, military, and private aircraft grace the 24th annual iconic event. Joining the vintage motorcycles will be three prominent and important Vincent Black Shadows. One will be all original, one fully restored, and one "Special" – all debuting together for the first time.
Beyond the aircraft and all manner of wheeled innovations, the food and beverage program at the 24th annual Motorworks Revival is set to impress. The event will boast eleven distinctive culinary stations from local master chefs, so attendees are encouraged to bring their discerning appetites. Highly regarded beverage Sponsors such as Bernardus, Roederer Estate, and Stella Artois have also joined the 2015 celebration.
The luxury lifestyle embodied by the Motorworks Revival will live on well after the conclusion of the event, as the McCall's Magazine continues to stun in 2015. Attendees of the event will be guided through every aspect of a bespoke lifestyle through the pages of the McCall's Magazine. This exclusive publication plays host to intriguing editorials by contributors such as acclaimed author and auto aficionado Winston Goodfellow, and master of Modernist architecture and motorcycle enthusiast Antoine Predock, to name only a few. This year's magazine will not only showcase the finest offerings available to McCall's discerning VIP Guests, but the passion that fuels such a pursuit.
# # #
Follow McCall Events, Inc on Twitter and Instagram @McCallEventsInc
Follow McCall Events, Inc on Facebook: http://www.facebook.com/MCCALLEVENTS
Official 2015 Hashtag: #GoMcCall