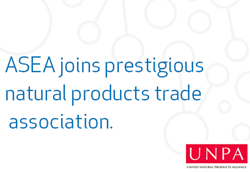 operates with integrity and the highest degree of quality to ensure that ASEA continues their contribution to advancing health.
Salt Lake City, UT (PRWEB) March 31, 2015
Trish Schwenkler, co-owner of OurGlobalHomeBusiness, has been a long time advocate of supplemental health and wellness products. "I am thrilled that ASEA has done what is needed to be part of UNPA. I see two key advantages for ASEA joining with UNPA: one is partner with UNPA to be a positive legislative advocate for supplement manufacturers; second is to provide 3rd party oversight for continued assurance of highest quality, consistent product formulation and manufacturing processes." (see UNPA release dated 3/11/15)
Trish continues: "As Independent Associates with ASEA we appreciate our company taking steps to solidify their standing as premier provider of first to market, high-quality cellular health products.'
"We are very happy to welcome ASEA, an innovative Utah-based company, as an Executive Member. The veteran executive management team brings many years of experience and a strong commitment to support the many programs at UNPA," said UNPA President Loren Israelsen. "The dietary supplement industry—like never before—needs companies such as ASEA to strengthen our ability to advance safety, science and quality."
Trish Schwenkler, president and co-owner of OurGlobalHomeBusiness Boise, ID, has been an expert in the wellness field for over 25 years. Trish is an Independent Associate of ASEA, LLC
ASEA. headquartered in Salt Lake City, UT, offers first-to-market products that utilize molecules native to the human body that enhance vital cellular functions. ASEA's cornerstone, patented redox signaling technology boosts the body's natural cellular renewal and communication process, improving total body health and allowing every system of the body to function better.