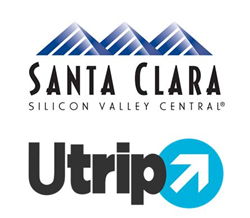 "By adding Utrip, we aim to make it easy for football fans, and all visitors to our city, to experience the attractions of Santa Clara that are most important to them."
Seattle, WA and Santa Clara, CA (PRWEB) March 31, 2015
Santa Clara Convention & Visitors Bureau announced today it has launched Utrip PRO, a free travel planning tool, for visitors to its city. The artificial intelligent technology helps travelers easily create personalized itineraries, and is now available on the Santa Clara CVB website.
The innovative trip planner was added in part to aid Super Bowl 50 attendees plan customized trips to the big game. Super Bowl 50 will be held in Santa Clara's new Levi's Stadium on February 7, 2016. The new stadium is located near the Santa Clara Convention Center and is expected to bring hundreds of thousands of visitors to the city.
"The countdown to Super Bowl 50 has already started," said David Andre, vice president of marketing and communications for Santa Clara Convention & Visitors Bureau. "By adding Utrip, we aim to make it easy for football fans, and all visitors to our city, to experience the attractions of Santa Clara that are most important to them."
The Utrip PRO platform uses a traveler's interests and budget to create personalized itineraries including hotels, activities and restaurant recommendations. The system also engages local area experts to design Featured Trips to showcase their favorite venues in the city.
"We are excited to partner with the Santa Clara CVB," said Gilad Berenstein, founder and chief executive officer of Utrip. "Santa Clara is in the center of what's possible in Silicon Valley, and is known for its forward-thinking spirit and inventive ideas. Adding Utrip is another example of the Santa Clara CVB delivering state-of-the-art solutions to its visitors. "
About Santa Clara Convention & Visitors Bureau
The Santa Clara Convention & Visitors Bureau works to increase the economic impact to the city of Santa Clara via increased hotel occupancy, visits to local attractions, shops, restaurants, transportation agencies, and many other travel related businesses. Named after one of the earliest missions in California, Santa Clara was incorporated in 1852 and is home to the award-winning Santa Clara Convention Center. The Santa Clara metro area also includes Levi's Stadium, host to Super Bowl 50, Intel Museum and California's Great America theme park.
About Utrip
Utrip is a free travel planning platform that brings together the best in artificial intelligence and human experience, making it easy for travelers to create their perfect trip. Founded in Seattle in 2012, Utrip's predictive technology works on a vast travel database that has been curated by local experts. Once a traveler indicates their interests and budget, Utrip's algorithm sorts through millions of combinations of must-see sites, activities, and restaurants recommendations to deliver personalized itineraries—in minutes. Travelers may then book lodging and share their itineraries with friends.
Utrip PRO, the white-labeled version, allows businesses such as DMOs, and hospitality groups to offer personalized travel planning on their sites. Utrip's companion mobile app provides access to itineraries, directions and personalized recommendations on the go. To learn more about Utrip or to plan your next adventure, visit utrip.com