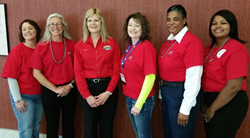 The WIT Image Team will assist the Industry in improving trucking's image by changing perceptions about truck drivers and their jobs. Mark Rousseau
Plover, WI (PRWEB) March 30, 2015
The mission of WIT is to encourage the employment of women in the trucking industry, promote their accomplishments and minimize obstacles faced by women in the trucking industry. The purpose of the Image Team is to represent these goals while bringing awareness of the need for more female drivers and the challenges they face working in a male dominated environment.
The WIT Image Team will participate in ride-along events for legislators, regulators and industry leaders to provide a deeper understanding of the obstacles they face on the road. They will also speak to the media and other drivers at public events and industry trade shows.
To qualify for the WIT Image Team, the applicant must have a valid commercial license, be a member of WIT for at least one year and submit an application. The application required an essay of 250 words to explain why she should be chosen for the Image Team. Questions regarding their safety records, previous awards or recognitions, volunteer service and community involvement were included in the selection process.
Twenty-five applications were submitted to the organization. These submissions were then narrowed down to ten finalists. A selection committee interviewed the finalists via individual conference calls. Ultimately, five women were chosen.
The 2015 Women In Trucking Image Team is comprised of

Stephanie Klang, Con-way Truckload
Allyson Hay, Walmart Transportation
Wyzeena Heeny, Covenant Transport
Carol Nixon, Walmart Transportation
Ingrid Brown, Rollin' B LLC
"The WIT Board is extremely excited about the creation of the Women in Trucking Image Team," said Mark Rousseau, Director of Logistics and Transportation, Frito-Lay, North America and WIT Board Member and Image Team judge. "These drivers will help the WIT Association advance our mission. In addition, the WIT Image Team will assist the Industry in improving trucking's image by changing perceptions about truck drivers and their jobs. These women are true pioneers for not just WIT, but for the trucking industry. We congratulate them on their selection to this very impactful role," Rousseau added.
The announcement of the 2015 Image Team was made at the 6th annual Salute to Women Behind the Wheel event in Louisville, Kentucky. The event is hosted by Women In Trucking Association to honor female commercial drivers. There were approximately 400 people in attendance.
Women In Trucking Association, Inc. is a nonprofit association established to encourage the employment of women in the trucking industry, promote their accomplishments and minimize obstacles faced by women working in the trucking industry. Membership is not limited to women, as 16 percent of its members are men who support the mission. Women In Trucking is supported by its members and the generosity of Gold Level Partners: Bendix Commercial Vehicle Systems, Daimler Trucks NA, GE Capital Transportation Finance, Great Dane Trailers, J.B. Hunt Transport, Ryder Systems, Inc., U.S. Xpress, and Walmart. Follow WIT on Twitter, Facebook, or LinkedIn. For more information, visit http://www.womenintrucking.org or call 888-464-9482.