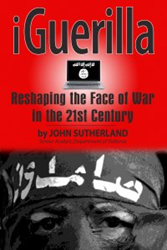 His contribution to John Sutherland's "iGuerilla" will bring together two of the most valuable military perspectives in the United States today."
Palisades, NY (PRWEB) March 30, 2015
History Publishing Company has agreed to a new publication date of May 25, 2015 for" iGuerilla: Reshaping the Face of War for the 21st Century" by John Sutherland to accommodate the inclusion of an Introduction by H.R. McMaster who has been relocated abroad and is expected back in the United States in April, 2015.
"We at History Publishing are pleased to have H. R. McMaster include an Introduction in the forthcoming "iGuerilla" said Publisher Donagh Bracken," He has one of the important military mindsets of this era. His grasp of the eruption in the middle-east and the Radical Muslim world is valued by all those attuned to the changing world and nature of war. His contribution to John Sutherland's "iGuerilla" will bring together two of the most valuable military perspectives in the United States today."
Author John Sutherland's "iGuerilla" examines the changing world and nature of the newly emerged, technologically adept, combatants in non-state organizations for which they fight. And it examines in-depth, the makeup of the radical Islamist groups proliferating in the Middle-East and stretching out to areas beyond. It also offers strategic and tactical methods for defeating them. H.R.McMaster is the author of "Dereliction of Duty" (Harper.) a critique of the political management of the Vietnam War.
"iGuerilla:Reshaping the Face of War in the 21st Century," 9781940773100, will be in Barnes and Noble Booksellers and in other fine bookstores in the United States and the United Kingdom, It will also be available on Internet sites and as an e-book globally.
Contact: Thomas Ryan, 845-398-8161, info(AT)historypublishingco.com