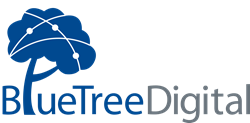 Reston, VA (PRWEB) April 02, 2015
The Student Government Association and the Metropolitan Business Group have collaborated to put together this first Small Business Conference to provide current and future small business owners with the necessary knowledge and skills for success. This free, all-day event will be at the NVCC campus in Alexandria, VA on Saturday April 11 from 8:30 am to 4:00 pm. Conference organizers note that only 51% of small businesses survive the first few years and have been working on the event to make sure that anyone that attends won't become another statistic.
BlueTreeDigital owner Nicole Skuba will be speaking about "Marketing Planning and Branding" with future and new small business owners in mind. In addition to Nicole's talk on marketing, presentations will include "Business Planning and Finance" by Wells Fargo and "Business Taxation and Budgeting" by H&R Block. Erick Nava will also speak about "The Basics of Networking Yourself and Your Business."
Nicole will speak about creating a marketing plan and tips for launching a brand. "Small businesses need to establish their brand from the beginning," Nicole says. "There are a lot of resources out there for business owners to get their marketing plans off the ground, but it's not easy to know where to start. I'm excited about this opportunity to share my marketing experience with future small business owners. I want to see their businesses survive and thrive."
Sign up for this event through SurveyMonkey at https://www.surveymonkey.com/s/XFQMMRV and follow updates on Facebook at https://www.facebook.com/events/417427641757934/. Anyone with questions about the NOVA Small Business Conference should contact Jacob Goozner (goozner@aol.com, 703-868-3530) or Santiago Falconi Espinosa (falconiusa11(AT)gmail.com, 703-655-5627).
# # #
Founded by Fortune 500 marketing strategist Nicole Skuba, BlueTreeDigital is a full-service marketing agency based in Northern Virginia specializing in creative marketing solutions for small and medium-sized businesses. They can overhaul websites, build relationships with email, acquire new customers with SEO, quickly reach the masses with targeted advertising, and keep the conversation going with social media. For more information on BlueTreeDigital, visit http://www.bluetreedigital.com or follow them on Facebook and Twitter.