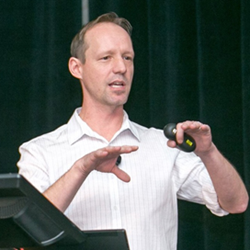 The value of SharePoint Fest in Seattle is that it brings the content closer to the people who build the product – we'll have an opportunity to be there so you'll have an opportunity to engage more closely with the people who work on SharePoint everyday.
Seattle, Washington (PRWEB) March 30, 2015
Bill Baer, Senior Technical Product Manager at Microsoft, has been selected as the Keynote Speaker for SharePoint Fest - Seattle. His keynote will be titled "The Evolution of SharePoint: Past, Present, and Future".
On the eve of SharePoint 2016, this keynote will share how we're evolving SharePoint with the influence of the cloud, how IT and Developers can maximize their value and what we're doing to help IW's leading in with a historic perspective of where we came from with SharePoint back in 2000.
About Bill Baer
Bill Baer is a Senior Technical Product Manager and Microsoft Certified Master for SharePoint in the SharePoint product group in Redmond, Washington; having previously worked at Hewlett-Packard Bill Baer has a proven background in infrastructure engineering and enterprise deployments of SharePoint Products and Technologies. While at Hewlett-Packard Bill Baer was awarded the MVP award for his contributions in the Technology Solutions Group, now known as HP Enterprise Business, which encompasses server and storage hardware, technology consulting, and software sales. Bill has deep industry experience having worked for Apple Computer Corporation, First Data Corporation, Digital Equipment Corporation, Compaq Computer Corporation, Hewlett-Packard, and Microsoft Corporation.
About SharePoint Fest
SharePoint Fest is in its fifth year. It offers a two-day conference (with an optional workshop day) that brings together SharePoint enthusiasts and practitioners, with many of the leading SharePoint experts and solution providers in the country.
Attendees will be able to attend workshops and seminars – taught by Microsoft Certified Trainers, Microsoft engineers, and Microsoft MCM's and MVPs – covering Enterprise Content Management, Implementation/Administration, Business Value, Search, Business Intelligence, Power User, Office 365 and SharePoint Development. Attendees will be able to choose one complete learning track or mix and match based on what content best meets their current needs.
At SharePoint Fest - Seattle, there are sessions created for SharePoint administrators, software developers, business analysts, information architects, and knowledge workers, which will ensure that attendees walk away with as much knowledge as they desire to truly leverage SharePoint in their current environment.