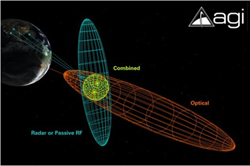 We are thrilled that the ComSpOC can help Boeing safely navigate through some of the more densely populated altitudes with their innovative low-thrust transfer up to GEO
Exton, PA (PRWEB) March 31, 2015
The Commercial Space Operations Center (ComSpOC®), has been awarded its first Launch and Early Operations Phase (LEOP) subscription contract with The Boeing Company to deliver space situational awareness (SSA) data for its first all-electric propulsion 702SP satellites.
The ComSpOC provides LEOP support to Boeing by generating High Definition Ephemeris (HiDEph™) and precise conjunction warnings throughout the multi-month, orbit raising phase that includes continuously thrusting spacecraft operations.
"We are thrilled that the ComSpOC can help Boeing safely navigate through some of the more densely populated altitudes with their innovative low-thrust transfer up to GEO," asserted Paul Graziani, AGI Chief Executive Officer.
About ComSpOC
The ComSpOC fuses satellite-tracking measurements from over 30 optical sensors, long and short baseline RF interferometric sensors, and a phased array radar to generate HiDEph and other SSA data products. These results are available via subscription to the next-generation space catalog, SpaceBook™, which currently includes over four thousand space objects, 80% of all geosynchronous (GEO) objects, and 100% of all active GEO satellites. For more information, visit http://www.comspoc.com.