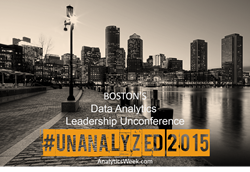 Every aspect of #unanalyzed will help promote the connection, collaboration and huddle that is required in the area of Big Data Analytics. - Vishal Kumar
Boston, MA (PRWEB) March 31, 2015
AnalyticsWeek launched the new concept of unconference - to bring together Boston's big data analytics community together for 5 evenings in 2014. The unconference focused towards bringing Boston's Data Analytics community around the hot data analytics topics. Each day embarked a particular vertical or core area of focus. In 2014, the week was called AnalyticsWeek (link: http://www.prweb.com/releases/analyticsweek/boston14/prweb11635980.htm).
2014 Unconference run became so popular that it has defined AnalyticsWeek as a community driven company to help connect data analytics professionals and businesses. A year later AnalyticsWeek has expanded the community to 8000+ data analytics professionals and 90+ data driven businesses across the North America.
Our 2014 run sparked lots of discussion, engaged lots of businesses and community members to help advance this rapidly growing data field. Now, in 2015, the time has come to redo and redefine unanalyzed unconference around some core and fundamentally important sets of industry focus areas that benefits the entire ecosystem. In 2015, AnalyticsWeek will be calling it's unconference as #unanalyzed. Unanalyzed name perfectly symbolizes what AnalyticsWeek are trying to achieve with this unconference -Bring people to discuss the areas that have not been highlighted or discussed before.
Unanalyzed will retain the 2014 AnalyticsWeek unconference template. Unanalyzed will be a 5 days evening only event with each day representing a particular vertical. Each day will be kicked off as a keynote following by a panel discussion. Per Vishal, CEO and co-founder of Analyticsweek, the sole purpose of this unconference is to start the dialog between Big Data & Analytics practitioners, bringing the communities together for faster collaborative learning. Every aspect of #unanalyzed will help promote the connection, collaboration and huddle that is required in the area of Big Data Analytics. The core differentiation that sets #unanalyzed apart from its peer is the fact that it provides attendees a place to hang out online as well as offline. AnalyticsWeek will be providing tools and capabilities to enhance the communication, collaboration and discussion among big data analytics professionals.
Similar to its previous year run: #unanalyzed, the one of its kind unconference, will be running its debut in an extremely controlled fission environment, and hosting its events every evening for 5 days from Monday 5/4 through Friday 5/8, starting at 5:30pm and going on till 8:30pm. Each day is focused on a particular industry vertical. Monday would be the grand kickoff focused on Big data analytics and Leadership. Technology, Marketing, Finance and Talent will be given its own dedicated day in this 5-day event. Selection of vertical is chosen after careful deliberations on what opportunities/demands geographical location represents. This could vary when similar event is rolled out in other geographical locations.
2015 run of #unanalyzed will cover 5 verticals:
May 4th: Data Analytics in Leadership 2.0
May 5th: Data Analytics in Technology 2.0
May 6th: Data Analytics in Marketing/Sales 2.0
May 7th: Data Analytics in Finance/Risk 2.0
May 8th: Data Analytics in Talent Management 2.0
Link: http://unanalyzed.com
What a Day in #unanalyzed Looks Like
The structure of each day for the conference is kept lean by dividing the day into a keynote talk and a panel discussion. Keynote talk will tackle high-level strategic opportunities in a particular vertical from Big Data & Analytics perspective, whereas panel discussion will be taking more tactical questions head-on as faced by the industry.
Speaker/Panel:
The quality of speakers and panelist is among the best of the best to keep the content generation to its premium. Each speaker and panelist will provide some directional thought leadership to the attendees. This unconference will be featuring around 30 big data and analytics industry thought leaders. The mix includes executives from fortune 100 organizations, big consulting firms, startup CEOs, Venture Capitalists as well as other deep-dive subject matter experts.
Event Structure:
This event is open to all with a nominal fee of $10 to account for conference related expenses and remaining proceeds would be donated to charity of choice(community members pick up their favorite charity). There are limited seats available for the event for each day. Further information could be found with event organizer Vishal Kumar. #unanalyzed provides a great opportunity for organizations to build brand awareness and to be recognized in the community as an analytics driven organization and to attract the best talent of Boston. If you are interesting in sponsoring the event please contact at info(at)analyticsweek(dot)com.