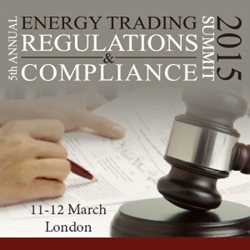 It's an IRN Summit!
London (PRWEB UK) 30 March 2015
Senior level delegation from National and European Regulation Authorities and Energy Trading companies gathered on 11-12th March in London to examine the latest developments around the regulations affecting their trading activities, including MiFID II, EMIR, CRD IV, MAD II, REMIT and the Dodd-Frank Act.
The morning of the first day was marked by the interventions of the regulators present at the Summit. Paul Willis, Technical Specialist – Commodities at the Financial Conduct Authority, opened the Summit with an update on MiFID II, highlighting its key elements on a timeline and sharing the FCA's expectations with the industry. Vincent Derbali, Commodity Advisor at AMF – Autorité des Marchés Financiers, explained the links between financial regulations and sectorial regulations in energy trading in his presentation. This was followed by a panel discussion that assembled all the energy regulators to analyse sanction regimes across Europe under the lead of Aviv Handler; Geoff Boon, from E-Control; Dr Thomas Müller, from Bundesnetzagentur; Daniela Kovářová, from ERÚ – Czech Energy Regulatory Office; and Louise van Rensburg, from Ofgem. The regulators agreed on one key point: it is crucial that the industry gets involved and works together to reach a situation where overlaps in the requirements of the financial regulations are well coordinated.
Several audience questions were addressed to the Austrian regulator, E-Control, as they will intiate transaction reporting in May, before the rest of the European countries. Geoff Boon explained the decision as a measure to ensure energy trading companies will be ready for full reporting on 7th October, when reporting obligation becomes effective for standard contracts.
The first day also featured presentations led by senior representatives from major energy trading companies. Ricardo Rossi, Regulatory Affairs Manager from Gazprom Marketing & Trading, updated the audience on MiFID II, providing the latest timeline of the directive, the definition of financial product, the ability of energy trading companies to stay exempted, and the implications for companies trading with emissions, now regulated under MiFID II. In line with this presentation, Tine Bax, Market Regulation Officer at GDF Suez Energy Europe – EMT, offered an overview of all the reporting obligations for power and gas trading companies.
During the second day of the Summit, speakers addressed the challenges of transaction reporting and how to best prepare for REMIT and its overlap with EMIR. Panelists from WINGAS, GDF Suez Energy Europe – EMT, UnaVista – LSEG, CME Group and Deutsche Börse Group - Impendium Systems, gave their feedback on EMIR reporting one year on and offered advice on best preparation for implementation of REMIT.
The Summit also took a look at regulations outside the European Union on Day 2, with presentations on the Dodd-Frank Act and the Swiss regulations, and its links with the European directives.
The senior level speaker faculty at the Summit included energy trading experts such as Peter Krusaa, Lead Regulatory Advisor - Regulatory Affairs, DONG Energy; Dr David Beier, Financial Market Regulation, WINGAS; Aviv Handler, Managing Director, ETR Advisory; Bernhard Walter, Senior Manager – Market Design and Regulatory Affairs, EnBW Trading; Benoît Gourisse, European Director of Policy, ISDA; Zsuzsanna Sessel-Zsebik, Head of General Law, E.ON Global Commodities SE; Stephen Taylor, Legal Counsel, RWE Supply & Trading; Michael Parsons, Associate Counsel, Shell; Daniel Jude, Global Head of Business Development Repository Services, CME Group; Michele Governatori, Head of Public and Regulatory Affairs, Axpo Italy; Jan Haizmann, Chairman of the Legal Committee, EFET; Stuart Clark, Head of Product Strategy and Innovation, Deutsche Börse Group, Impendium Systems; Fionn O'Raghallaigh, News Editor, ICIS; Ivan Nappo, EU compliance Manager - ETM Platform, Cargill; Tom Wieczorek, Head of Product Management, UnaVista, LSEG; Vivek Pathak, COO, BroadPeak Partners; Mathias Flecke, Legal Counsel, RWE Supply & Trading; Chris Mee, Director, Baringa Partners; and Owen LaFave, Director, Sapient.
This meeting was sponsored by the specialist in regulatory software solutions, Deutsche Börse Group - Impendium Systems; the London Stock Exchange Group's global hosted technology platform, UnaVista; the ESMA-registered European Markets Infrastructure Regulation (EMIR) Trade Repository, CME Group; the K3 integration platform specialist, BroadPeak Partners; the European consulting firm, d-fine; the specialised and expert resource, ETR Advisory; and the provider of business and technology services and solutions, Sapient Global Markets.
A photo gallery and more information can be found on the website http://www.etrcsummit.com. Documentation and presentations from this year's edition are available for purchase for those who were unable to attend.