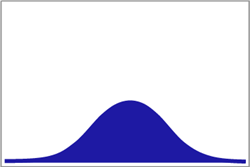 All of the gain with hardly any pain!
Columbus, OH (PRWEB) April 01, 2015
The International Six Sigma Institute and Secret Society for Imperious Professionals of Process Improvement (ISSISSIPPI) today announced an exciting new product: Constrix TM process shapewear, a groundbreaking new development in the field of cosmetic process improvement. Inspired by the slim and attractive figures rendered by human shapewear, ISSISSIPPI has applied similar technology to reshape all types of data distributions, and to rein in those process dunlops, big-boned data, and pesky long tails that extend well beyond reasonable specifications.
ISSISSIPPI President Zoltan Minsky recently commented on the technological breakthrough: "This technology finally allows organizations to improve process capability instantaneously. It's really the holy grail of process improvement – all of the gain with hardly any pain." Notably, Constrix does not reduce the number of observations in a sample, it only changes the values of those observations to conform with customer requirements. Continued Minsky: "It's really a very simple concept. The algorithm only alters the outward appearance of a process, without changing the real stuff. Real fundamental process improvement is nice, but it can take forever. As always, we're concerned with helping organizations meet their more immediate needs, like an upcoming audit, project tollgate review, or a presentation to regulators. Constrix offers the perfect solution to those problems."
ISSISSIPPI's Director of European Operations Kathleen Mueller, echoed the sentiments of global process improvement leaders: "Our clients continually express a need for quicker fixes. They tell us that process improvement is hard, and they are under constant pressure to achieve results. The short-term discomfort of the Constrix shapewear is far easier to endure than the work required to actually fix a bad process. Besides, as my mother always said, 'If you want to be beautiful, you have to suffer a little.' One tip that I can share based on early customer feedback is to select Constrix's full coverage option to avoid the 'muffin top' effect of letting the control stop too soon."
About ISSISSIPPI.org
The International Six Sigma Institute and Secret Society for Imperious Professionals of Process Improvement (ISSISSIPPI.org) was founded in 2008 by a group of dedicated Lean Six Sigma professionals who are concerned about the current state of certification practices. ISSISSIPPI is dedicated to the application of advanced scientific methods to provide robust, reliable, inexpensive and accessible certification methods to the Lean Six Sigma marketplace.
About MoreSteam.com
MoreSteam.com is the leading global provider of online Lean Six Sigma training and Blended Learning technology serving over 50% of the Fortune 500 with a full suite of Lean Six Sigma e-Learning courses, data analysis software, discrete event simulation software, online project tracking software, online testing tools, and project simulations and games. MoreSteam.com was launched in the year 2000 in response to the high cost of traditional Six Sigma training and tools. MoreSteam's mission is to enable people to advance the performance of their organizations by delivering powerful tools for process improvement to the widest possible audience at the lowest price available.