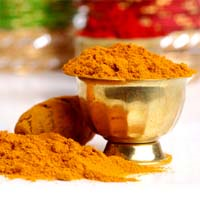 This new technology may finally make curcumin more bioavailable.
Raleigh, NC (PRWEB) March 31, 2015
A team of Italian scientists is using nanoparticles to deliver curcumin, a polyphenol with anti-cancer properties, into mesothelioma cancer cells. Surviving Mesothelioma has just posted an article on the new research on its website. Click here to read it now.
Curcumin, the compound that gives the yellow color to the spice turmeric, has limited value as a cancer treatment because of its poor bioavailability. Biomaterials experts at Università di Napoli Federico II are getting around the problem with specially-designed nanoparticles made with blends of copolymers.
"PLGA and PLGA/poloxamer blend were confirmed by the different interactions of these nanoparticles with serum proteins and also by their ability to be internalized by [the] mesothelioma cell line," writes lead author Laura Mayol, with the Interdisciplinary Research Centre on Biomaterials at Università di Napoli Federico II.
The article, published in the European Journal of Pharmaceuticals and Biopharmaceuticals, showed that the nanoparticles effectively knocked down the mesothelioma cells' resistance to curcumin for 72 hours.
"Multiple studies have suggested that curcumin has promise for fighting mesothelioma. We are encouraged that this new technology may finally make it more bioavailable and, therefore, more effective," says Surviving Mesothelioma Managing Editor, Alex Strauss.
For a more in depth look at the current and past research on curcumin, see Novel Delivery System Could Make Spice Compound a Viable Mesothelioma Treatment, now available on the Surviving Mesothelioma website.
Mayol, L et al, "Curcumin loaded PLGA-poloxamer blend nanoparticles induce cell cycle arrest in mesothelioma cells", March 17, 2015, European Journal of Pharmaceuticals and Biopharmaceuticals, Epub ahead of print. http://www.sciencedirect.com/science/article/pii/S0939641115001368
For nearly ten years, Surviving Mesothelioma has brought readers the most important and ground-breaking news on the causes, diagnosis and treatment of mesothelioma. All Surviving Mesothelioma news is gathered and reported directly from the peer-reviewed medical literature. Written for patients and their loved ones, Surviving Mesothelioma news helps families make more informed decisions.