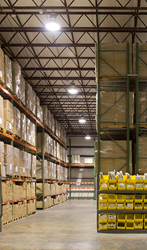 The adoption of LED technology for high bay fixtures promises to have a tremendous impact on energy consumption across all commercial sectors.
Tampa, Florida (PRWEB) March 31, 2015
VOLT® Lighting, leading factory-direct lighting supplier, announced today the introduction of a new line of LED high bay lights. The lights are designed to present significant energy cost savings (and other benefits) to facilities currently using High Pressure Sodium (HPS) or Metal Halide (MH) high bays.
Savings result from two factors:
1. Lighting efficiency advantages of LED light sources compared to the HPS and MH high bays they replace.
2. Smart controls that use motion-activated technology to ensure the lights are only "On" when needed. Older high bays with HPS or MH sources can not use motion activation because they require up to 30 minutes to come to full brightness. VOLT®'s LED High Bays are instant-on so can be activated as fast as needed in a busy warehouse.
The combination of these two factors can reduce a facility's energy consumption enough to qualify for government rebates and lower tier pricing from energy suppliers.
Heather Weston, VOLT® Product Manager, describes the various factors that guided VOLT®'s high bay product development, "We had a number of performance targets with the high bay development project. First, the high bays needed to have sturdy construction and be easy to install. Next, they needed to have highly efficient long-life LEDs with accurate color specifications. And, finally, they needed to have advanced motion-activated controls."
The adoption of LED technology for high bay fixtures promises to have a tremendous impact on energy consumption across all commercial sectors. High bays are commonly found in warehouses, factories, sports and events venues, big-box retail stores, airports, and many other facility types. With typical energy savings of 60% to 80%, the potential overall savings make a significant contribution to government-sponsored energy saving programs.
Weston provides more details on VOLT®'s high bay fixtures, "Our development goals are not just about saving energy, we also care about lighting's effect on people. Existing HPS and MH high bays are notorious for their poor color quality. Workers complain about visual fatigue associated with performing tasks under High Bays. VOLT® specifically addresses this problem by providing high bays with an ideal warm white color temperature and relatively high color rendering index. That means workers feel more comfortable and less fatigued when their facility is lit by VOLT® LED High Bays."
Perhaps the most impressive feature of the VOLT® High Bays is their price to the end-user. As a factory-direct manufacturer, VOLT® Lighting bypasses traditional distribution channels. This allows them to sell high quality at low prices. In addition, their nationwide company-owned distribution facilities deliver on promises of same-day order fulfillment and delivery within 4 days. As a Google trusted store, consumers rate the online store and give it an average of 4.9 stars (out of a possible 5.0).
About VOLT® Lighting
Based in Tampa, FL, VOLT® Lighting is a leading manufacturer and online seller of indoor and outdoor lighting products for industrial, commercial, and residential applications. For more information, go to http://www.voltlighting.com or call 813-978-3700.