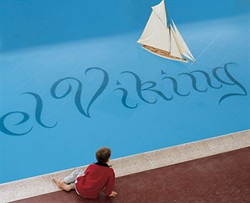 Electronics have a monopoly on our time these days, so we are offering families an opportunity to disconnect and reconnect with each other.
Newport, Rhode Island (PRWEB) March 31, 2015
With school breaks on the horizon, Hotel Viking features the new "We are Family" package that encourages families to put the mobile devices down and turn up the fun. The getaway includes a new board game, snack basket for kids upon arrival, free breakfast daily for kids at One Bellevue Restaurant (when eating with parents), disposable camera, a special Hotel Viking coloring book and crayons and a 10% discount on spa treatments including the Prince and Princess kids treatments.
We are Family is valid now through summer, 2015, based on availability. Weekday room rates in spring start at $189 per night and in summer start at $409 per night for a family of four in a room. For more information, visit http://www.HotelViking.com or call the reservations office at 401-848-4840.
"Electronics have a monopoly on our time these days," says Marlen Scalzi, Director of Sales and Marketing at Hotel Viking, "So we are offering families a classic board game, like Monopoly and Connect4, to give families an opportunity to actually #LOL like we did, back in the day."
In addition to the bounty of benefits included in We are Family, Hotel Viking offers easy access to the best the seaside town has to offer for visitors of all ages. Just down the road from the hotel are the Newport Mansions, several historic homes turned into museums. The Breakers is ideal for families as it offers a kid-friendly audio tour that tells the story of kids who lived there. History also comes alive at the International Tennis Hall of Fame, which offers interactive displays and, with reservations, a chance to play on the courts. For outdoor lovers, Newport is rich with opportunities to connect with nature. Cliff Walk is a 3.5 mile hike with dramatic views and drops. Fortunately much of the walk is stroller friendly. Cliff Walk starts (or ends) at Easton's Beach, a popular surf spot and home to the Save The Bay Exploration Center, an interactive marine science center showcasing more than 140 species from Narragansett Bay. For those with a sweet-tooth, a trip to the Newport Fudgery to watch the candy makers and sample their work is a must as is a visit to the Newport Creamery, known for its decadent ice cream.
"Newport has so many options for families," said Scalzi, "Just steps from Hotel Viking is great shopping for parents and the kids will love the sailboats, the arcade games at the Ryan Family Amusement Center, and the little parks dotting the town." Parents can also sneak in history when they walk around town as the Redwood Library, the oldest lending library in the country, is across the street from the hotel and Touro, the oldest synagogue in the nation is just a block away. St. Mary's Catholic Church, where John F Kennedy and Jacqueline Bouvier tied the knot, is just a few blocks away. "History really comes alive in Newport," continues Scalzi, "and it is so entertaining, kids won't roll their eyes!"
Hotel Viking is a family favorite with the indoor pool, a spa menu just for kids, and spacious suites that offer separate kid and parent sleeping areas. Cribs are available upon request.
Hotel Viking is a historic hotel located in Newport, Rhode Island. Hotel Viking offers a total of 209 guest rooms and suites, and 13,400 square feet of event space, including two ballrooms. The award-winning One Bellevue Fine Dining & Seafood Restaurant offers indoor and patio dining, a seasonal roof top lounge, all-day lounge and a renowned Afternoon Tea held daily. The spa features a selection of massage and skin treatments. Additional amenities include an indoor heated pool, fitness center and the historic Newport Kay Chapel. Hotel Viking is a 30-minute drive from TJ Green Airport (27 miles) in Providence and the Providence Train Station, and is driving distance from Boston (70 miles) and New York City (170 miles). For information, please contact Hotel Viking 401-847-3300 or visit online at http://www.hotelviking.com. Be social at http://www.facebook.com/HotelViking and http://www.twitter.com/HotelViking.