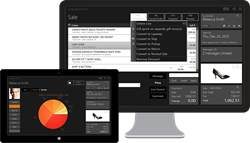 "We're excited to partner with Multidev Technologies offering a solution to help retailers gain a consistent view and understanding into all aspects of the business to drive multi-channel growth and profitability," said Cliff Epstein, President RPE.
Montreal, Quebec (PRWEB) March 31, 2015
Partnering with Multidev will allow RPE to offer retailers advanced, innovative and comprehensive integrated software that supports the omnichannel landscape of today's retail environment.
This partnership will enable RPE to recommend the ChainDrive solution to retailers looking to fully automate all of their business processes from Store Operations, Merchandising, Web Order Fulfillment, and Wholesale to Accounting. ChainDrive's unique architecture is developed as an all-in-one commerce solution leveraging a centralized database allowing for real-time data and visibility into all aspects of the business and processes, enabling retailers to optimize operations and productivity at every level of their enterprise.
"We are pleased to embark on this partnership with RPE, their industry expertise in retail software and commitment to service will help drive our brand and expand our market reach to retailers looking for a complete end-to-end solution," stated Joseph Amzallag, President, Multidev Technologies Inc.
Retailers looking to achieve and drive competitive differentiation, customer experience and engagement, as well as attain advanced operational effectiveness throughout their entire organization will be able to do just that and more by leveraging the ChainDrive Software.
"We're excited to partner with Multidev Technologies offering a solution to help retailers gain a consistent view and understanding into all aspects of the business to drive multi-channel growth and profitability," said Cliff Epstein, President RPE. "Our business process and implementation expertise, paired with the ChainDrive solution, is an ideal fit for retailers looking to compete across all channels to meet the needs of the customer."
About RPE
RPE helps retailers integrate people, process and IT to deliver innovative merchandising and supply chain solutions. As a leader in retail consulting, RPE focuses on business process improvement, package selection, strategic IT planning, system implementation, version upgrades and ongoing system support. RPE also provides cloud services including hosting, Software-as-a-Service and managed services. Areas of expertise include most leading software solutions and IBM, Lenovo and Toshiba hardware. RPE has been implementing, managing and hosting merchandising and supply chain solutions for leading retailers since 1999. Visit http://www.rpesolutions.com
About Multidev Technologies Inc.
Founded in 1997, the creators of Multidev Technologies recognized the need for specialized software in the retail industry and began to develop a solution that specifically catered to a focused niche of retailers. Today, 17 years later, Multidev has emerged as an industry leader that offers two distinct products; "ChainDrive", for the multi-channel retailer and "e-comDrive", for the web retailer. Designed and developed from the ground up, Multidev Technologies delivers complete and robust solutions to leading North American companies. Addressing the needs of Apparel, Footwear, Jewelry, Sporting Goods, Specialty and Department Store retailers, Multidev provides the mid-size retailer, a sophisticated, completely Integrated Retail Management System. Visit http://www.multidev.com