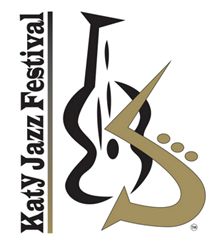 The dedication of Katy ISD and the City of Katy in supporting their jazz programs are nothing short of AMAZING. . They should be a role model for all school districts and communities. Brad Leali ~ jazz musician, jazz professor, Univ. of North Texas
Katy, Texas (PRWEB) April 01, 2015
The KJF (April 24 and 25, 2015) is hosted by the Katy Independent School District. The purpose for this event is to increase exposure, education, and entertainment of the jazz music medium. The event is designed to benefit participating student jazz groups, individual student musicians, jazz music educators, and to provide top quality jazz performances to the community.
For the jazz enthusiast, the opportunity to hear student jazz ensemble performances throughout the festival day, hear professional jazz artists teaching their crafts and skills, and then a professional jazz concert in the evening. This full day of merging of jazz education, jazz entertainment, and visual offering unparalleled insight into the development and preservation of this true American music art form.
"This is the second year that The Jazz Network Worldwide has promoted The Katy Jazz Festival. You can clearly see by the video presentation on their website http://www.katyjazzfestival.com that the level of musicianship is top-tier. The camaraderie amongst the educators and musicians is a joy to witness. It gives us the confidence that what is being taught in our schools as well as live presentation in Katy, Texas is 'right on the mark'. It's an honor to promote such a well run festival", says Jaijai Jackson, of The Jazz Network Worldwide.
The Moores School of Music Jazz Orchestra ~ Directed by Noe Marmolejo kicks off the first night of musical celebration on Friday, April 24. 2015. The Brad Leali Jazz Orchestra Featuring: Brad Leali ~ Alto sax, Claus Raible ~ Piano, Alvester Garnett ~ Drums, Young Heo ~ Bass, Shelley Carro ~ Tenor Sax, Drew Zaremba ~ Bari sax, Paul Stephen ~ Trumpet, Derrick Gardner ~ Trumpet, Chris Seiter ~ Trombone, Andre Hayward ~ Trombone and Carla Helmbrecht ~ Vocals.
On Saturday ~ April 25, 2015 , The Katy ISD All-Star Jazz Band ~ Directed by Bruce Melville. The Shelley Carrol Quartet Featuring: Shelley Carrol ~ Tenor sax, Claus Raible ~ Piano, Derrick Gardner ~ Trumpet and Young Heo ~ bass
The "Horace Grigsby Trio" will be performing in the evenings Friday, April 24th and Saturday, April 25th immediately prior to each evening's Feature Concert!
Black Box performances: The Larry Ham/Woody Witt Quartet, GroovesKool, The Henry Darragh Sextet
PLUS – 14 school Big Bands, numerous school combos, and vocal jazz ensembles!
The KJF is non-competitive in nature. It is designed to provide a performance opportunity for all jazz groups and for them to receive constructive comments / instruction from world renowned professional musicians.
The Katy Jazz Festival (KJF) will be held at Katy High School, located at 6331 Highway Blvd., Katy, Texas, and will feature an incredible array of jazz performances, master classes, and ARTkaty, a visual arts exhibit and sales.
A purchased ticket will be necessary to enter the event. On Friday – April 24th, 2015
The Day pass (valid 2 PM- 7 PM) — $3, Feature Concert (7:30 PM)– $20,All Day pass — $20
Saturday, April 25th, 2015, Day pass (valid 8 AM – 7 PM) — $7, Feature Concert (7:30 PM) — $20, All Day Pass — $25, ALL EVENTS PASS – $40 (includes all activities both days)
Lead Partners : HugeDomains.com, City of Katy,Texas, The Conservatory Of Music, KCAM Museum. Partners: Hilton Garden Inn, Best Western Plus, Residence Inn (Marriott), Comfort Suites.
Supporters: Music & Arts
Come by and enjoy the feature of the 7th Annual Katy Jazz Festival on The Jazz Network Worldwide social network. http://www.thejazznetworkworldwide.com. To learn more, go to http://www.katyjazzfestival.com for further details.
Twitter: https://twitter.com/ElMaestroPrimo
Facebook: https://www.facebook.com/pages/Katy-Jazz-Festival/260663593982208?fref=ts
###