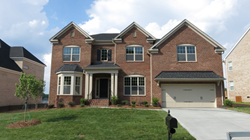 This is definitely a good indicator that the local economy continues to improve.
Charlotte, NC (PRWEB) March 31, 2015
Shea Homes of Charlotte began sales in phase 2 on their Barrington neighborhood, located in Waxhaw, NC. In just two days, they sold out the first release of 13 homes, with a waiting list for the future homesites. This is a sure sign that the real estate market and new homes sales are rebounding in the Charlotte area.
Barrington offers two-story four sides brick homes from the mid $300's, starting around 3,000 square feet. Amenities include a Junior Olympic pool with splash area, cabana, large playground and walking trails. Barrington offers close proximity to excellent Union County schools, plus shopping and dining in south Charlotte and the quaint town of Waxhaw.
Michele Scott, Vice President of Sales and Marketing for Shea Homes, commented, "We knew we had a lot of interest in Barrington as we prepared to begin sales, but had no idea we would have such an immense response, with customers lining up overnight to be the first in line on Saturday morning. We have seen the real estate market improve in Charlotte, and this is definitely a good indicator that the local economy continues to improve."
Barrington is open 7 days a week. For more information or to join the Barrington interest list, please visit http://www.sheahomes.com or contact the sales center at 704-243-4055.
About Shea Homes
Shea Homes Charlotte is a division of Shea Homes Limited Partnership, an independent member of the Shea family of companies; Shea Homes is the oldest family‐owned homebuilder in the United States. Shea Homes builds new homes in California, Arizona, Nevada, Colorado, Washington, North Carolina, Texas, Virginia and Florida. With choices to suit homeowners in every stage of life, Shea Homes offers new homes ranging from affordably priced traditional single-family homes to magnificent luxury residences. Shea Homes has been recognized as a leader in customer satisfaction with a reputation for design, quality and service. For more information about Shea Homes and its communities, visit SheaHomes.com.